Chessify Partners With DecodeChess To Provide Its Users With Text Explanations For Engine Analysis
Chess engine analyses are an integral part of modern chess training. However, the truth is that most beginning and amateur chess players have a hard time understanding why the engines suggest particular moves and avoid others.
Today we're introducing the DecodeChess feature on our website to answer the very question of WHY.

DecodeChess is an AI software tool that explains the moves suggested by Stockfish in human language. The explanations include threats, attacking plans, piece functionality, tactical and strategic motifs, and more.
Pricing
All registered Chessify users have one Free Decode per day until June 30, 2023. You may register or log in to your account to use your free decode of the day.
After redeeming your free decode of the day, you have 2 options for using this new feature on Chessify: coins-per-decode and annual plan.
The annual plan offers unlimited decodes. It is currently discounted by 50%, so you can get it for $42 instead of $84. You can find the plan after signing in to the Chessify analysis dashboard.
If you don't want to commit yearly, you can still use the new feature for 20 coins per position decode. Coins are the internal currency of Chessify; 1 coin is equal to 1 cent (USD), so one decode will cost 20 cents. You can get coins from here.
How to use DecodeChess
DecodeChess explains the moves suggested by Stockfish. So whenever you have difficulties understanding why the engine suggests specific variations, you can use the decoding feature. To do that, just click on the button called "Decode" right below the engine options.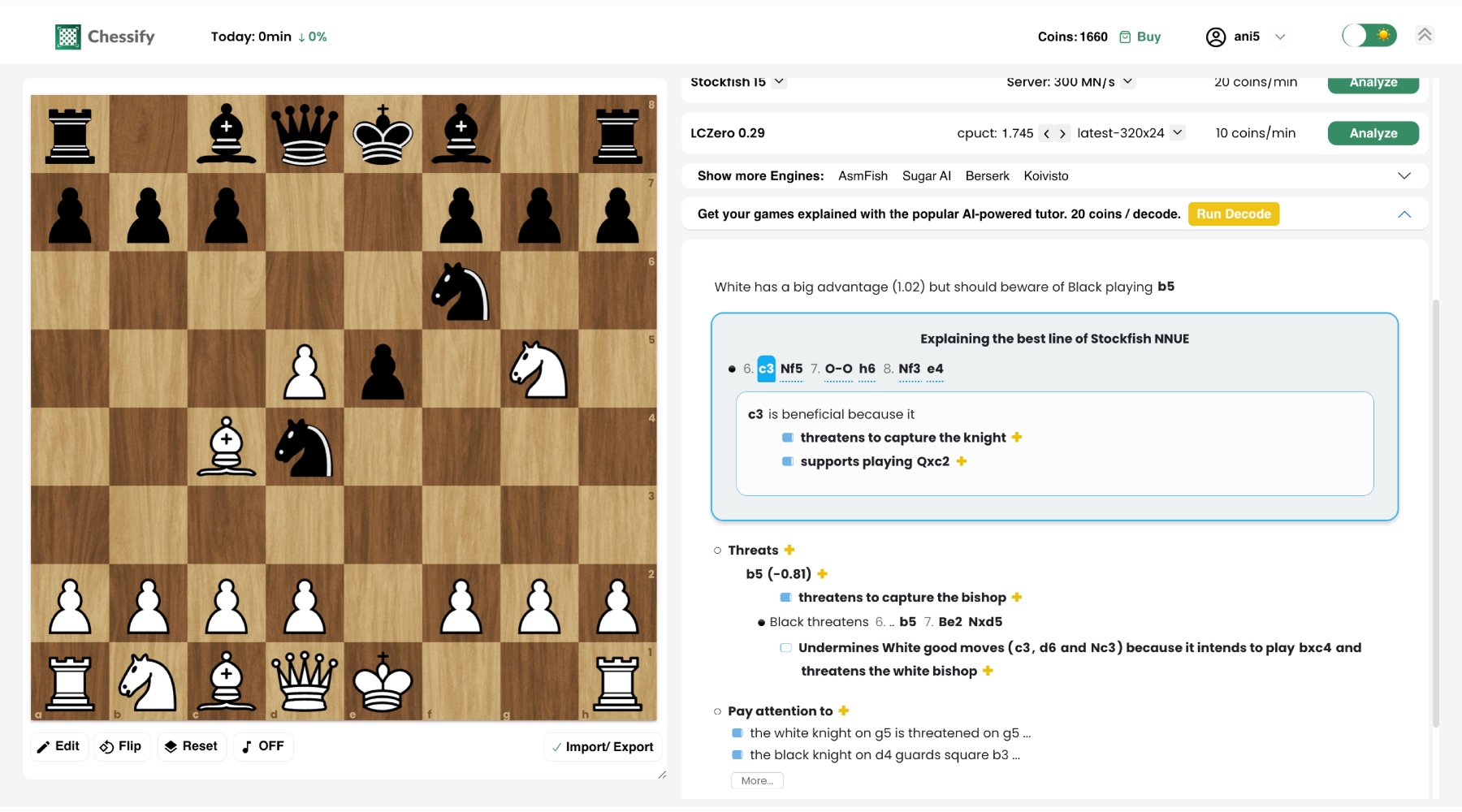 Once you click the decode button, the feature will run quick analyses on your current position and show you the main move suggested by the engine and the reasons you should play it. You'll first receive brief information about each point, such as threats, plans, etc., but you can expand these sections to find deeper explanations on each point.
We hope you enjoy the new DecodeChess feature on Chessify! Should you need assistance, please join our Discord channel.