Create Your Perfect Training Plan With Chessify's Chess Analysis Calculator
Chessify users have different preferences: some lean towards mid-speed unlimited analysis, while others require the best analysis possible. Our platform provides all kinds of speed and power for chess analysis, but often, our users get a little confused about which plan to choose or how many coins to buy. To help them create their perfect plan, we're introducing our chess analysis package calculator.
The new Chessify calculator enables you to set how many hours you want to analyze with specific engines (Stockfish, LCZero, etc.) and servers (300,000 kN/s, 1,000,000 kN/s, etc.) as well as choose whether you want to have unlimited analysis at up to 100,000 kN/s speed included in your plan. The system then calculates the number of coins you need for your package and automatically applies a Bonus based on the cost of the package. Let's look at a sample package created by the Chessify calculator.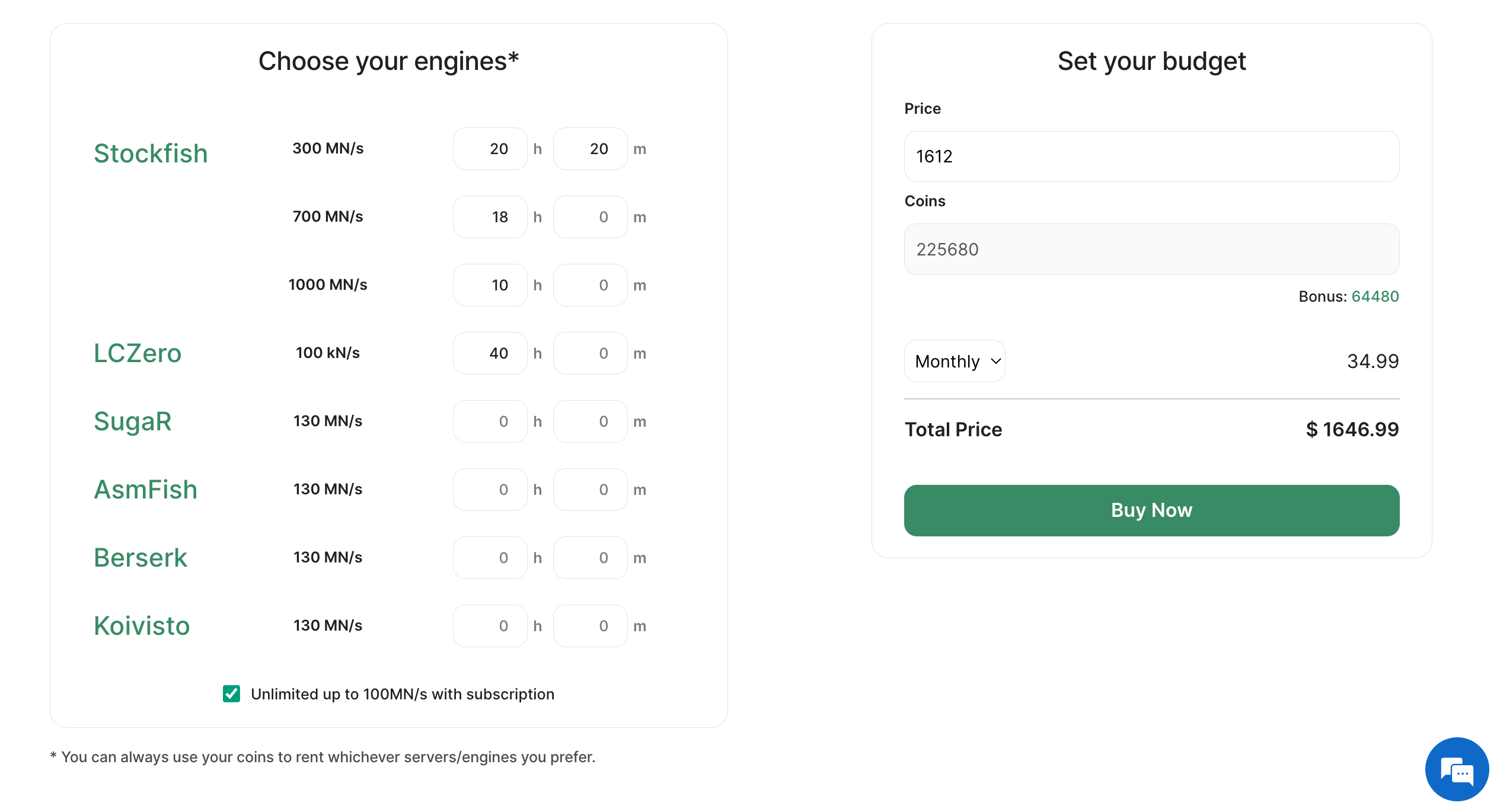 To analyze with Stockfish and LCZero for the given hours, you would need 225,680 coins. Since the total amount is more than $1000, the system applied a 40% Bonus to 161,200 coins to get to 225,680 coins (see the list of bonuses here). So the price of the coins is $1612. The package, however, also includes one month of unlimited analysis at up to 100,000 kN/s speed, which adds $34.99 to the final price of the package. You can choose a yearly subscription of unlimited analysis ($350) or completely remove it by unchecking the box below the engines' field.
Importantly, the system calculates your coins based on the hours of specific servers and engines but it does not oblige you to use those particular engines and servers. You can always change your mind and use your coins to rent whichever servers/engines you prefer.
Take a moment and try our chess analysis package calculator here. Create a package that will perfectly suit your training needs.