Interview With GM Anish Giri, The Winner Of Tata Steel Masters Tournament
Just prior to the final three rounds of the Tata Steel tournament (aka Wijk aan Zee), on the final rest day, the three leaders, Anish Giri, Nodirbek Abdussaturov, and Magnus Carlsen, met accidentally in a restaurant. They were seated approximately five meters apart from each other, unsure of who would come out as the champion.
As the tournament progressed, it was Anish Giri who emerged as the victor. With an undefeated record, Anish finished the event with 8.5/13 points, solidifying his position as the clear winner. He defeated some of the strongest players in the world, including reigning world champion Magnus Carlsen, the new world championship candidate Ding Liren, and India's rising star Gukesh D.
In the final round, Anish also managed to defeat Romania's No. 1 Grandmaster, Richard Rapport, whose infamous Kg6 move, in the end, made things a little easier for Anish. "I was pretty sure it was just a blunder," Anish expressed in an interview with Chessify, "so overall I was quite thrilled, to say the least!"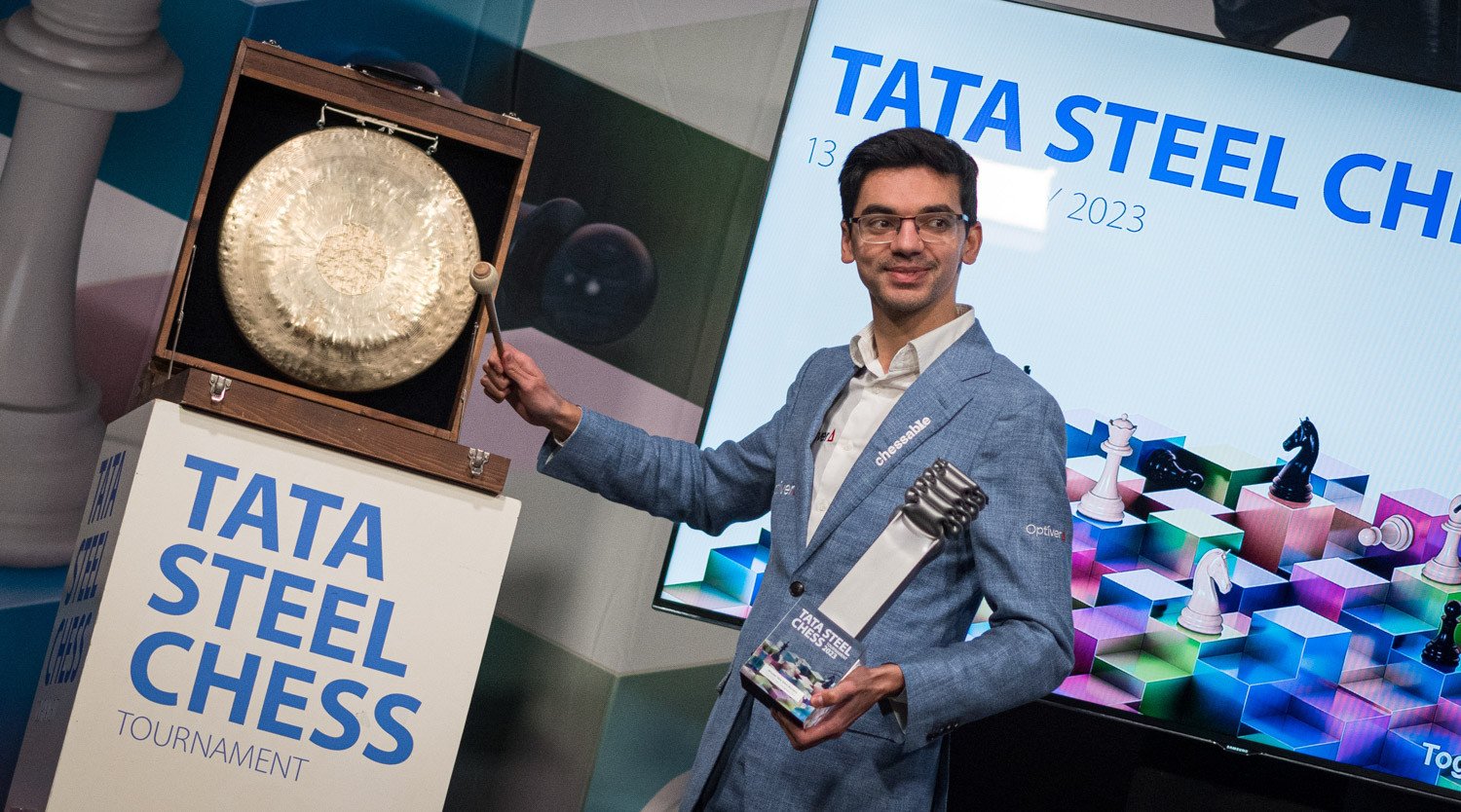 Photo: © Lennart Ootes / Tata Steel Chess Tournament 2023 Official Website
Anish Giri, now ranked as the 5th highest-rated player in the world, has been using Chessify for more than three years. In this recent video, he explained the reasons why he chose to integrate Chessify's cloud service into his chess training before becoming the platform's ambassador in 2021. His performance and tournament results have improved notably since and he also advised his seconds to start using the service:
"I never hide the fact that I use Chessify engines for my preparation, and all of my preparation before and during the event [Tata Steel Chess] was done with Chessify, both by me and by my second. It's just what I use full-time now."
Well-known for his thorough preparation and strong work ethic, Giri devotes special training camps to big tournaments where he focuses on improving his opening preparation and creating strategies against his opponents. "I hold some of my camps abroad and some at home," Anish explains, "There's always a great atmosphere and a lot of hours spent on chess. We also always try to get good walks in. But above all, good mood, I believe, is the key."
Giri's victory at the Tata Steel Masters is a testament to his hard work and dedication. His match against young Grandmaster Gukesh was one of the best in the entire tournament and a true display of chess artistry.
Although his game against Gukesh was "quite aesthetically pleasing," as Giri put it, he still acknowledged that "beating Magnus Carlsen in a classical game when he is still at the top of his game has got to be special."
Anish was a prodigious talent in his youth, achieving the title of Grandmaster at 14 and reaching a rating of 2700, a mark only achieved by the most elite players, by the time he was just 17 years old. He has numerous tournament achievements to his name, including the 2017 Reykjavik Open, 2015 London Chess Classic where he shared 1st place, 2019 Shenzhen Masters, and 2023 Wijk aan Zee. "I was fascinated by chess since I was a little kid," Anish recalls. Like many chess enthusiasts of the 2000s, he was particularly impressed by Garry Kasparov's dominance in the game. This fueled his passion for chess and motivated him to excel at the game much faster than his peers. His advice to up-and-coming players is simple: "To become good at chess, you have to spend a lot of time on it and you have to love the game."
With Chessify, those who love the game and are willing to put in the effort can access the same hardware setups as Anish. As the ambassador of Chessify, Giri plays an active role in the platform's development and considers it to be the best tool for players seeking the highest level of preparation. In his words:
"Chessify Cloud Engines is a professional tool designed for players who want to prepare at the highest level and who don't want to look for compromises or spend a lot of effort trying to arrange their hardware setup. Everything is done, you just have to switch it on and you get access to what the very best players are using. I think switching up the engines can be of inspiration sometimes if you get stuck. Other tools offered by Chessify are also really cool, in particular, I find it very comfortable to use it on the phone for quick emergency preparation, since currently, it is by far the best available tool that has all you need, the engines, databases, your own files you can store and all the necessary tree/search functions you need."
The platform offers secure access to the highest-speed cloud servers, top-level engines, a 9 million+ game database updated weekly, and other essential tools for chess training. Sign up for the Amateur plan for Free here without entering any payment details and get access to almost all website features right away.