An Insightful Conversation with the US Senior Chess Champion, Melik Khachiyan
When asked to rank the US Senior's Chess Championship victory amongst his other tournament achievements, Melik Khachiyan responded not with words, but with a telling gesture: he confidently raised his index finger, silently declaring this win as the pinnacle of his playing career. Having served as the coach of the US women's national team since 2010, 53-year-old GM Melik has only occasionally stepped into the competitive chess arena in recent years. However, during his participation in the National Open in Las Vegas this June, he was taken by surprise with an unexpected invitation to compete in the 2023 US Senior Championship.
"I had lost some rating points and honestly, wasn't feeling too optimistic about making it to the Championship," GM Melik shared with a reminiscent smile. "But then, right after that first day in Vegas, I checked my email and saw an invite to the Senior Championship. I was like, 'Oh, my God!' It felt like a dream. The US championship is the best tournament you can play. It's a place where chess players are treated on a very high level. You feel that respect – the playing environment, the solid checks to ensure no cheating, everything's just right. And getting to play just one game a day? That's a rarity in the US. Plus, you also get a rest day, which is very important. Regardless of how I've finished in the past, I'd jump at the chance to play here every single year."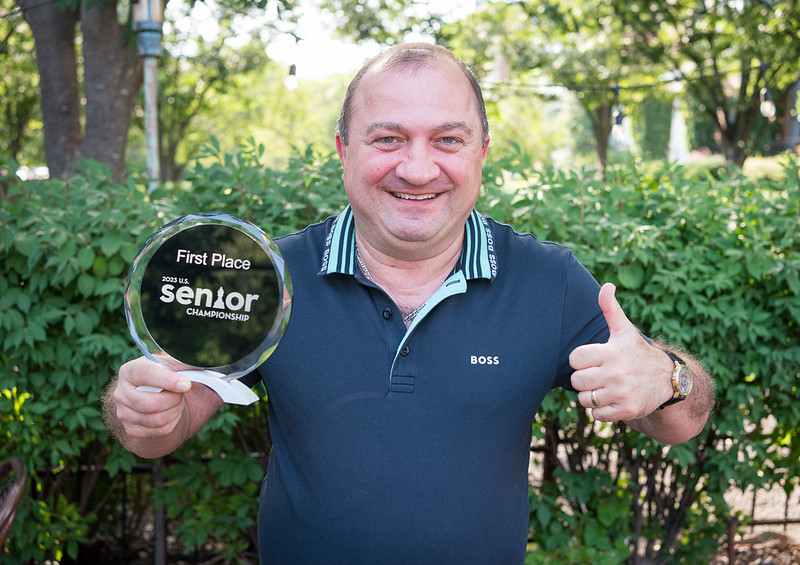 Photo by Lennart Ootes / STL Chess Club Flickr page
Drawing Wisdom from the Story of His Coach, the Legendary Tigran Petrosian
Starting the championship as the ninth seed among ten players, Melik's strategy and tenacity shone through. His performance crescendoed to the point where he secured the title even before the final round was played. The crucial moment came during the penultimate round. With a 1.5-point lead over the runner-up, Alexander Shabalov, Melik took on GM Wolff with the white pieces. A victory here would shut the door on Shabalov, rendering their upcoming face-off inconsequential in terms of the championship race. As Melik pondered his approach, he remembered a story he heard from his coach, the legendary Tigran Petrosian.
"Back in 1962, Petrosian was just half a point ahead of Keres in that famous Curacao Candidates tournament," Melik began. "He once told me about the sleepless night he had before his last game. You see, winning then would mean a straight shot to face Botvinnik for the title. But he chose to play it safe, aiming for a draw and just waited to see how Keres would fare. No one expected him to make a quick draw. Turned out to be a smart move, as Keres failed to win as well, meaning Petrosian finished clear first.
I was in a similar situation yesterday. Shabalov was on my tail, and I thought, 'Why not go for a safe draw and be ready for a possible showdown with him?'"
The decision paid off when Shabalov's game culminated in a draw, crowning Melik as the champion ahead of schedule.
Preparing Physically & Chess-Wise
Despite GM Melik's exceptional chess skills on display, he's convinced that his physical conditioning played a key role. Growing up involved in sports like boxing and judo, Melik took for granted he'd always be in shape for chess. But as he aged, he realized that without regular exercise, physical fitness slips away.
"I've been hitting the gym for over a year now. Makes a huge difference in the game," Melik said, trying to explain the secret to his championship success. "Used to be, after just 3-4 rounds in past tournaments, I'd feel drained. This time I felt physically strong and ready. And honestly, aside from maybe Shabalov, not many looked like they were keeping pace. Sure, Gurevich had his opening hiccup, but apart from that, I won all of my games toward the fourth hour. By that time, I could see others flagging while I was still going strong."
Of course, GM Melik didn't neglect his chess-specific preparation. "I put in more hours than I usually do, and, secondly, working with strong engines really changed things for me. I started using Chessify almost a year ago, and it's been very helpful. I won some of my games simply because I analyzed the positions more deeply," GM Melik shared.
Having been in the chess world for decades, he's seen it all — from lugging around stacks of books and notebooks to tournaments to those early computer engines, and now, to Chessify's cloud-powered engines.
"Back in the day, it was a lot more fun," Melik chuckled. "Nowadays, though, things are more professional. Computers cut down the prep time a lot. See everyone here plays chess pretty well, but if you've got higher-quality analysis which is what Chessify gives you, and can basically remember all of it — you've got a big privilege."
Below is GM Melik Khachiyan's first-round win against the top seed, Vladimir Akopian.
Eyes on the Future
As the echoes of this championship fade, Melik Khachiyan's focus shifts towards nurturing the next generation. He was all praises for Alice Lee, who won the Girls' Championship title in a similar fashion - with a round to spare. "Alice is beyond her years, - said Melik. "If you listen to her post-game interviews and analysis, you'd think an experienced professional is speaking, not a young girl. She's going to be a top-10 player, for sure."
Given Melik's track record, having mentored prodigies like Levon Aronian, the future seems bright for Alice. At just 13, she's already representing the US national team. Tune in next week as we engage with Alice Lee and junior champion Abhimanyu Mishra for an in-depth conversation.