Talking Chess with Rameshbabu Praggnanandhaa - the Indian Super Star
On August 30th, the reception at the Chennai airport echoed the grand welcome that legendary Vishy Anand received in 2012 when he brought home his fifth world championship title. A sea of journalists and fans waited eagerly to greet 18-year-old chess prodigy, Rameshbabu Praggnanandhaa, fresh from his success in two world-class chess tournaments.
Pragg, while proud of representing India with distinction, was not prepared for the overwhelming welcome that awaited him. Sharing his emotions with Chessify, he said, "I didn't see it coming, but it sure made my day. Seeing so many people interested in chess is great for the game I believe. It was an unforgettable day."
Although chess doesn't always enjoy the limelight, India's rising talents are rapidly gaining recognition on the global stage, which ignites a passion for the game within their nation. On that memorable day, Pragg, one of the most promising Indian youngsters, received a reception befitting a rock star.
Currently ranked 18th worldwide, at just 18 years of age, Pragg holds a FIDE rating of 2727, making him the third highest-rated Junior player.
August saw Pragg clinching a silver medal at the World Cup and a gold at the World Rapid Team Championship. While many might assume gold to be the pinnacle, for Pragg, the silver from the World Cup, one of the chess world's premier tournaments, held special significance.
He remarked, "Definitely, the World Cup was more important to me. We had a very strong team in the Rapid championship and were the favorites to begin with. So it wasn't a big surprise that we won in such a dominating fashion. But the World Cup presented the real challenge, and I'm genuinely happy with my performance."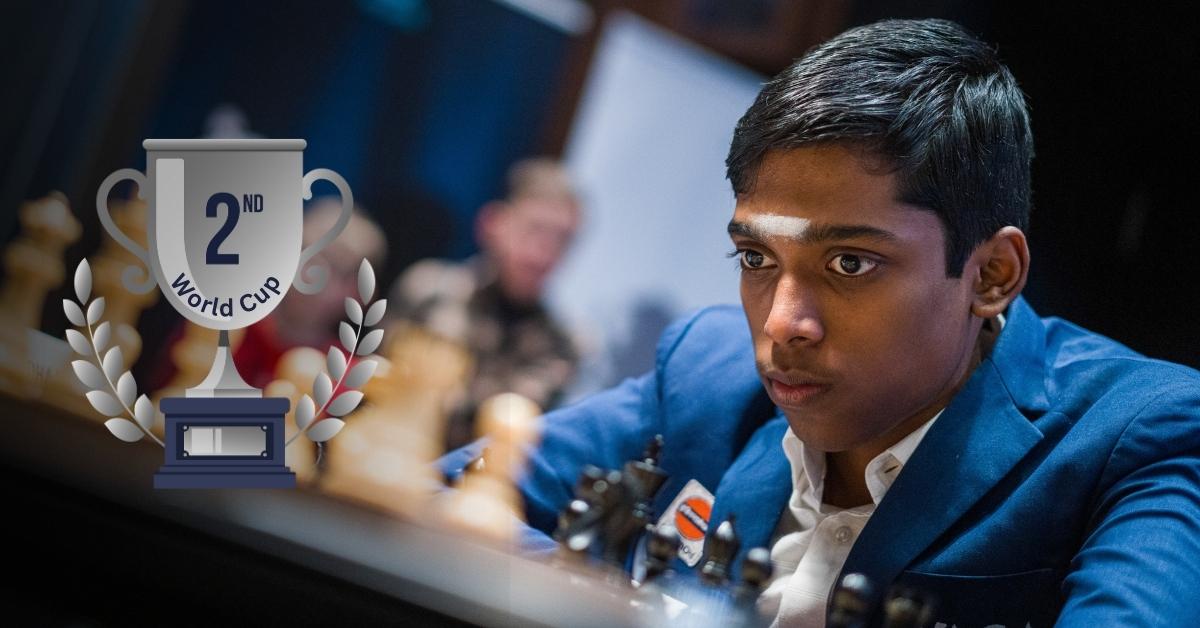 In a tournament teeming with the world's top chess players, Pragg demonstrated he stands shoulder to shoulder with the elite grandmasters.
The World Chess Cup is one of the most prestigious and difficult tournaments in chess. Given its rare knockout format, participants have to battle it out in at least two classical games before going to the tiebreaks with shorter time controls. A single match often extends over 3 days, putting both the skill and stamina of players to the test.
Throughout his impressive run at this month-long event, Pragg defeated notable GMs like Maxime Lagarde, David Navara, Hikaru Nakamura, Ferenc Berkes, Arjun Erigaisi, and Chessify's Ambassador Fabiano Caruana to reach the finals against the world No 1 Magnus Carlsen, with whom he would soon team up in the subsequent event to take the World Rapid Team Championship title. Such a turn of events Pragg could hardly have imagined.
"The only way I could face Magnus was in the finals for first place, so I couldn't believe it at first." Pragg shared with us. "I felt my play was also good all around the World Cup and it made me happy as well."
Among the many formidable opponents that Pragg encountered, two matches stand out: his victories against Caruana and Nakamura. Against all odds, Pragg managed to secure wins against these highest-rated American players, beating both of them via tiebreaks, in shorter time controls.
Reflecting on his win against Nakamura who's known for his prowess in faster time controls, Pragg recounted, "The classical games against Nakamura were intense. Both games could have gone either way but ended in draws. The first rapid game of the tiebreaks was probably the most important one in our match. After the opening, I was a piece up, but things weren't that easy. Still, I managed to get my pieces out and get the win. After that, I felt like I should try to finish this match in 25-minute tiebreaks, so I really wanted to shut the game down in the second rapid game. Of course, Nakamura's great at such situations so it's not that easy. But it was smoother than I expected, as I got a very good position out of the opening."
Following this impressive win against Nakamura, Pragg went on to defeat two more grandmasters, ultimately setting up a showdown with former World Championship challenger Fabiano Caruana in the semifinals. The match proved to be tough from the get-go, but Pragg persevered.
Recalling this significant match, he shared: "In the classical portion, he was pushing in both games and I had to simply defend. At some point in the first rapid game, I think he was even winning but I managed to draw it. So he definitely had the initiative in the match. It was more like I was always on my back foot, and when I got my one chance I took it."
Yet, amidst all these high-profile matches, Pragg cherishes his game against Maxime Lagarde the most, a match where he showcased his true chess flair.
A true masterpiece. It's no wonder that out of the numerous games at the World Cup and seven rounds at the World Rapid Team Championship, Pragg chose this game as his favorite.
Praggnanandhaa signifies a well-rounded approach to his chess training.
Although the opening is arguably the most important phase of modern chess, Pragg does not overestimate its role. He values a more holistic approach, emphasizing mental agility and alertness instead of spending the overwhelming part of his pre-tournament camps on studying and analyzing openings.
Discussing his approach to tournament preparation, Pragg said, "First of all, it's really important to be in good mental and physical shape. Chess-wise, you need to be very sharp. Openings play a good amount of role but even if you get a slightly worse position out of the opening, it's not the end of the world; you can still fight and survive. So I feel that's the key. Your mind should be thinking well as a whole instead of relying on your opening knowledge."
However, given Pragg's frequent participation in top-tier chess tournaments, he recognizes the need for strong opening preparation and the continual refinement of his opening repertoire. "Repeating your openings too often makes you an easy target," - he pointed out.
As a result, he dedicates the necessary time, utilizing tools like Chessify's cloud engines, to refresh and sharpen his opening arsenal.
On the topic of Chessify, Pragg noted: "I started to use Chessify about a year ago, and at that time, not many people knew about it. Now a lot of players recognize its value, and it definitely helped me in my preparation as well. In comparison, I find Chessify often shows superior strength. In some positions, you get the same results, but in others, Chessify clearly stands out."
Following his World Cup success, Pragg's next biggest challenge is the FIDE Candidates Tournament in April. It's the gateway to challenge for the World Championship title. Although Pragg might be one of the youngest entrants, his World Cup performance ensures he won't be taken lightly. Nearly all top players, except world champion Ding Liren, participated in the World Cup. But that didn't deter Pragg, who only bowed out to Magnus Carlsen, who's most likely to skip the FIDE Candidates. April 2024 is shaping up to be a month to watch, wouldn't you say?