Stockfish 16 is Available on Chessify for Free Chess Analysis
We are thrilled to announce that Chessify, your go-to platform for chess analysis, has upgraded to the latest version of Stockfish, Stockfish 16! In self-play against Stockfish 15, this new release gains up to 50 Elo and wins up to 12 times more game pairs than it loses.
As a Chessify user, you can harness the full potential of Stockfish 16 by running it on up to 1,000,000 kN/s speed cloud servers. Start analyzing with the strongest chess engine right away by simply signing in to your account.
The Progress and Power of Stockfish 16
Stockfish 16 introduces a host of enhancements, including:
- an upgraded neural net architecture (SFNNv6), refined implementation, and optimized parameterization

- Leveraging the new inference approach and data from

Leela Chess Zero

, Stockfish 16 guarantees speedy evaluations and smaller binary sizes while allowing for more weights and higher accuracy.

- The search algorithms have also been further optimized, delivering enhanced performance, especially in longer analyses.

- Finally, the Fishtest framework has been improved to allow running tests with 10000s of CPU cores.
You may read the official announcement of the Stockfish 16 release on their official website.
Analyze with Stockfish 16 Online with Chessify
You can analyze with Stockfish 16 and several other engines (ShashChess, asmFish, LCZero, etc.) by registering or signing in to Chessify's analysis dashboard. You only need a free account to start using Stockfish 16 at 1000 kN/s speed on the Chessify website, while subscribing or buying coins will give you access to higher-speed cloud servers for analysis.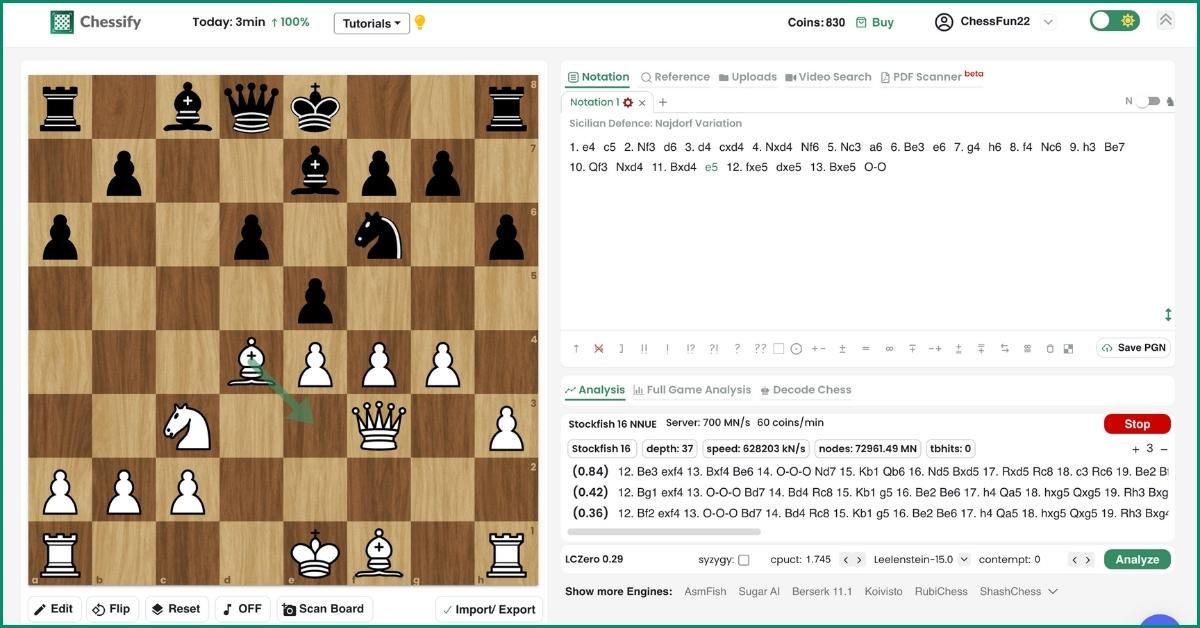 In particular, these are the speed servers for Stockfish 16 analysis available on Chessify.
Unlimited shared-speed servers accessible through subscription plans:
1 MN/s (same as 1000 kN/s) - Free ($0)

7-15 MN/s - Amateur Plan ($7.99/month or $79.99/year)

20-100 MN/s - Master Plan ($34.99/month or $349.99/year) & GM Plan ($1200/year)
Dedicated speed servers accessible through coins:
110 MN/s - 10 coins/minute

300 MN/s - 20 coins/minute

700 MN/s - 60 coins/minute

1000 MN/s - 80 coins/minute
Learn more about Chessify pricing and analysis dashboard with our video tutorials.
Final notes
Chessify regularly upgrades its engines to their latest development versions to ensure top-notch analysis for our users. To stay up to date with our news and announcements, make sure to join our Discord server and follow our news page.