Understanding the Success of U.S. Junior Chess Champions Alice Lee & Abhimanyu Mishra
In the U.S. Junior Chess Championships, where contenders can be as old as 20, it's often the older and more experienced participants who steal the spotlight. Yet, the 2023 editions of both the open and girls' championships were swept by the tournaments' youngest participants. At just 13, Alice Lee clinched the Girls' title, while Abhimanyu Mishra, only slightly older at 14, claimed the Juniors' crown. Their remarkable achievements caught our attention at Chessify, and we decided to catch up with these two prodigies, hoping to uncover the secrets to their success and hear about their future chess aspirations.
Alice Lee
First-ever US Girls Championship Title
A three-time World Youth Championship gold medalist, Alice Lee has already created ripples in the women's chess arena at just 13. She's bagged all three of her IM titles and now ranks her recent US Girls Championship victory alongside the accomplishment of earning an IM title.
"I would say this is definitely one of my best achievements if not my best achievement in terms of tournament wins." Alice reflected. "In general, these tournaments held by the St. Louis Chess Club are extremely prestigious, and this is actually the first time that I won a tournament hosted there. I played in a few like the American Cup and the US Women's Championship, but I never won one, so it's really great to have won the US Junior Crown. This win feels similar to getting my International Master title."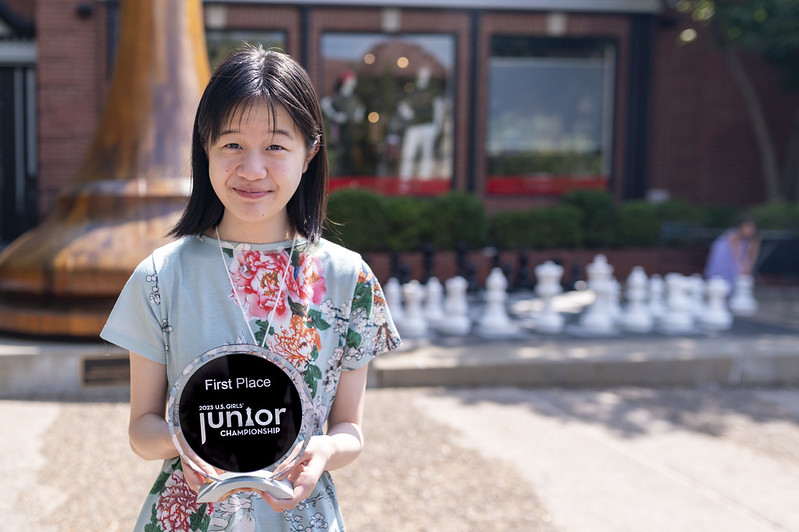 Photo by Crystal Fuller / STL Chess Club
Yet, it wasn't merely a win. Alice showcased utter dominance in the strongest US tournament for Junior girls securing her title with a round to spare. Surprisingly, however, her preparation for the tournament wasn't as extensive as one might expect. Alice was already in good form from previous tournaments like the World Open and a New York City norm event. Additionally, the one-game-per-day format of the championship allowed her to get by without deep player-specific preparations.
"For openings, I didn't really look too much into the players. Because there's one round a day, I was able to look up the players and get good preparation during the tournament itself," Alice explained. "Also, I think the lack of pressure was really helpful for me. I knew that I still have six more years to try winning this tournament, even if I don't win it this time. And since I wasn't the top seed, the pressure wasn't too much for me, which I think is really important."
Dealing with Pressure While Representing the US National Team
Being a young prodigy invariably comes with its own set of pressures, often leading to challenges. Yet, Alice navigates these pressures with remarkable composure. Having secured the No. 4 rank among female players in the US, she earned a spot on the US women's national team. At just 13, she's set to participate in her inaugural team event at the FIDE World Women's Team Championship this September in Poland.
"There is pressure involved, but I try not to think too much about it; I find I perform better when I'm not under pressure," Alice reflected. "I am the least experienced in the team, so in some ways, it's just a good experience for me, no matter how I do. But naturally, I aim to do well, especially since I'm representing my team. Hopefully, I will be able to do that in the future as well."
Looking Ahead with Alice
Who could offer a clearer insight into Alice's capabilities than the coach of the US women's national team, Melik Khachiyan? Fresh off his triumph as the US Senior Champion, GM Melik lauded the young prodigy during his interview with Chessify. Recognizing Alice's talent and skills, he predicted her ascent to the ranks of the world's top 10 players.
Despite such lofty projections, Alice maintains a grounded perspective.
"I'm setting only short-term goals," Alice shared, discussing her aspirations. "For now, I'm mostly just focusing on improvement. In the next few years, I'd like to become a GM. Although for now, I think just focusing on improvement is more important than setting any specific goals, because as I improve, I should be able to just get the results with it."
True to GM Melik's words, Alice exudes maturity beyond her years. Given that she enjoys math contests in her free time, her maturity isn't too surprising, is it?
While Alice Lee's calm and focused demeanor paints one picture of youthful success, Abhimanyu Mishra showcases another – one filled with heightened expectations and a different set of challenges.
Every game played by the world's youngest Grandmaster, Abhimanyu is under the immense weight of that title. Yet, both these young talents, with their varied experiences, underline the message that success has many roads.
Mishra Abhimanyu
Abhi Balances Hopes & Expectations
While many youngsters carry the weight of their own dreams, Abhimanyu also feels the expectations placed on him by others. Entering the US Juniors' Championship as the top seed (despite being its youngest contender), Abhi was distinctly under the spotlight.
"The Juniors' Championship was very important for me. Since I had the highest rating and could qualify for the US Championship [the main championship with no age restrictions] in case of a win, I felt a lot of pressure," Abhi shared. "I am happy to win this event but my performance could have been much better."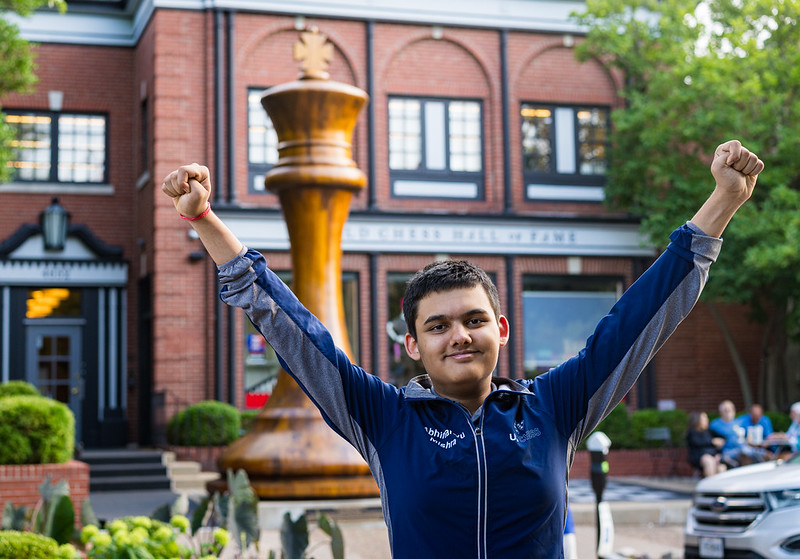 Photo by Lennart Ootes / STL Chess Club
What helped Abhi overcome the pressure was his vast experience.
"Throughout the event, I kept reminding myself of my past experiences with such pressure," he noted. "Many of my competitors hadn't faced this before, so I stayed hopeful and kept going."
This resilience paid off during a crucial match against Andrew Hong (2520), the championship's third-highest-rated participant.
"My game against GM Andrew Hong was the most important for me, as at the time, we were co-leaders," Abhi recalled with a smile. "Beating him as black with a complete opening surprise was special."
Abhi's Ambitions Remain Unchanged
In our previous interview with Abhimanyu, the young prodigy stated that his ultimate goal is to become a world champion. However, on his journey there, he aims to reach the Super-GM level by age 15. As his 15th birthday looms in February, his immediate focus is set on entering FIDE's top 100 rankings. Yet, he acknowledges some bumps in his path, namely, inconsistency.
"I had 3 good tournaments and gained 41 ELO points in June. After that, the last 2 tournaments were not that good. I am struggling with consistency issues," he shared. "I almost tied for first in my first Super tournament Tepe Sigeman and can play really well against 2600-2700 rated players. At the same time, there are some off days where I don't play to my potential. Hopefully, I will overcome this consistency issue. Super GM goal is still there but the immediate target is to get into the top 100 in the world by this yearend."
With the US Junior title now secured, Abhi is preparing for the US Championship, where he'll stand alongside some of the strongest Grandmasters in the world. The tournament, which is scheduled for this October, is likely to feature Fabiano Caruana, Levon Aronian, Wesley So, and Hikaru Nakamura.
---
The reigning US Junior champions, Alice Lee and Abhimanyu Mishra have already achieved outstanding landmarks in their chess career and continue to push the boundaries of their potential. As they prepare for their upcoming challenges, Chessify, in tandem with the global chess community, eagerly anticipates their next moves.