Interview with Abhimanyu Mishra, the Youngest Chess GM in History
If you establish a single record in your field, you are a success story. But what do you call USA's 13-year-old Abhimanyu Mishra who's broken several records at such an early stage of his life? Abhi is the youngest-ever national master in US chess history, the youngest-ever International Master in the world, and on June 30, 2021, he became the world's youngest-ever Grandmaster breaking a record that had stood for 19 years. After winning his 9th-round game at the Vezerkepzo GM Mix tournament, Abhi obtained his final GM norm at the age of 12 years, 4 months, and 25 days and thus surpassed Sergei Karjakin's record of the youngest chess GM in history by 2 months.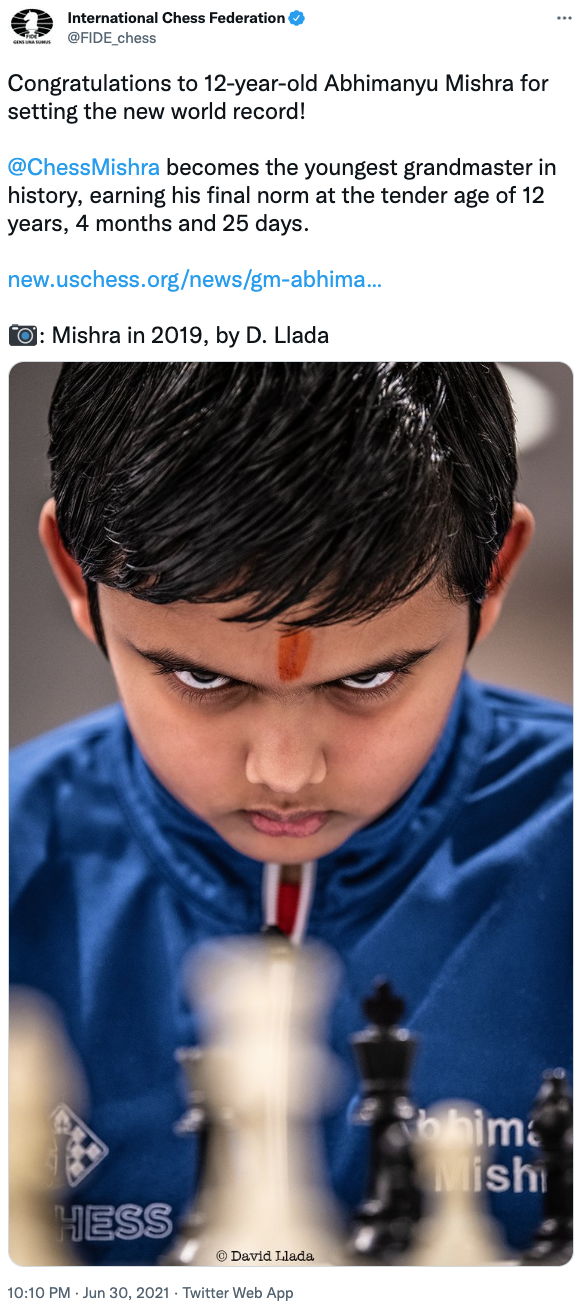 In an interview with Chessify, Abhi recalled that the task of beating this long-standing record was extra difficult due to the lack of chess tournaments caused by COVID-19. However, the young prodigy focused on playing good chess in every game, which eventually made his and his father's dream come true.
Abhi, who's been training with Chessify cloud engines for some time now, aims to take the world chess crown one day, but his next intermediate goal is to become a Super GM by age 15. The now 13-year-old GM is on his way to doing just that as he's already participated in several high-level tournaments. Early this March, Abhi had a confident victory at Spring Chess Classic B finishing a full point ahead of the field. He then tied for second in the strong Reykyavik Open before getting invited to his first super-tournament: "Chessable Masters." Being part of the $1.6 million 2022 Meltwater Champions Chess Tour, "Chessable Masters" featured some of the world's best players, including then-world-champion Magnus Carlsen, Chessify's Ambassador Anish Giri (who won the event), China's No1 Ding Liren, etc.
"The biggest takeaway was the experience of playing against the best players. I managed to win against GM Mamedyarov, GM Wei [Yi], and GM Eric [Hansen]. I learned a lot from all games at this event," - Abhi explained to us. His performance in the following Summer Chess Classic A tournament surely proved his point. Abhi shared 2nd place with GM Oparin (2685) and remained undefeated even against the winner Yu Yangyi (2710).
His next big tournament is going to be the US Masters, the strongest US tournament planned to take place in November. So we asked him to describe his average training camp. Just like every serious chess player, Abhi dedicates time to solving puzzles, studying opponent-specific openings, and playing practice games. He's also using Chessify for his preparation and suggests it "is a great tool to help in all aspects of the game."
"Chessify is a powerful and user-friendly tool that is helpful for all chess players: from club players to the elite players in the world. Earlier I was not sure about the reliability part of cloud-based engines and had doubts whether it will be available when it is needed most in the middle of tournaments; but after using it for a few tournaments, I have concluded that it is reliable. The team is very professional and always willing to help players. It also offers flexible pricing options. I strongly recommend this service to other chess players considering the above points."
Having played chess tournaments since 5, Abhi is already a well-developed positional player and is working to become "a universal player," as he puts it. His favorite game is his win as black against GM Pouya Idani, who was the top seed of the Reykjavik Open 2022.
13th world champion Garry Kasparov once said, "The loss of my childhood was the price for becoming the youngest world champion in history." Being a professional player at such an early age, Abhi also has to make significant sacrifices for his career.
"I spend about 8 hours a day on chess. I love working on my game, but it requires considerable time to improve due to which socializing is difficult. It is part of the chess journey," - he explains.
Focus and determination are a must if you want to succeed in sports, and Abhi sure has both of these features. Although he loves playing video games, he manages to remain disciplined throughout the day and focuses mainly on improving his chess. So be sure to follow this young chess star's journey to a world-class player via his Twitter and Instagram pages and check out his autobiography at the "New In Chess" online store. We wish Abhi new achievements and hope to continue being part of his chess journey.
Read More Interview Blogs with Chessify Users
Interview With GM Anish Giri, The Winner Of Tata Steel Masters Tournament - Read more
From Obscurity to Champion: The Inspiring Story of Mariam Mkrtchyan- Read more
Interview with Hayk Martirosyan, the Armenian Chess Champion - Read more
Raunak Sadhwani: India's Next Chess Superstar - Read more