Berserk 12 Chess Engine Update
"Hai Yo" from the iconic Berserk soundtrack by Susumu Hirasawa rings in our ears as we announce the upgrade of the Berserk chess engine to its new, 12th version, now available on Chessify. As of October 28, 2023, Berserk stands at No. 5 on the CCRL 40/15 rating list with an impressive rating of 3489.
We first added the Berserk engine to Chessify's analysis dashboard in April 2022 and are happy to witness its continual advancements. The 12th version marks the second major upgrade this year, following closely on the heels of version 11.1 released at the end of February.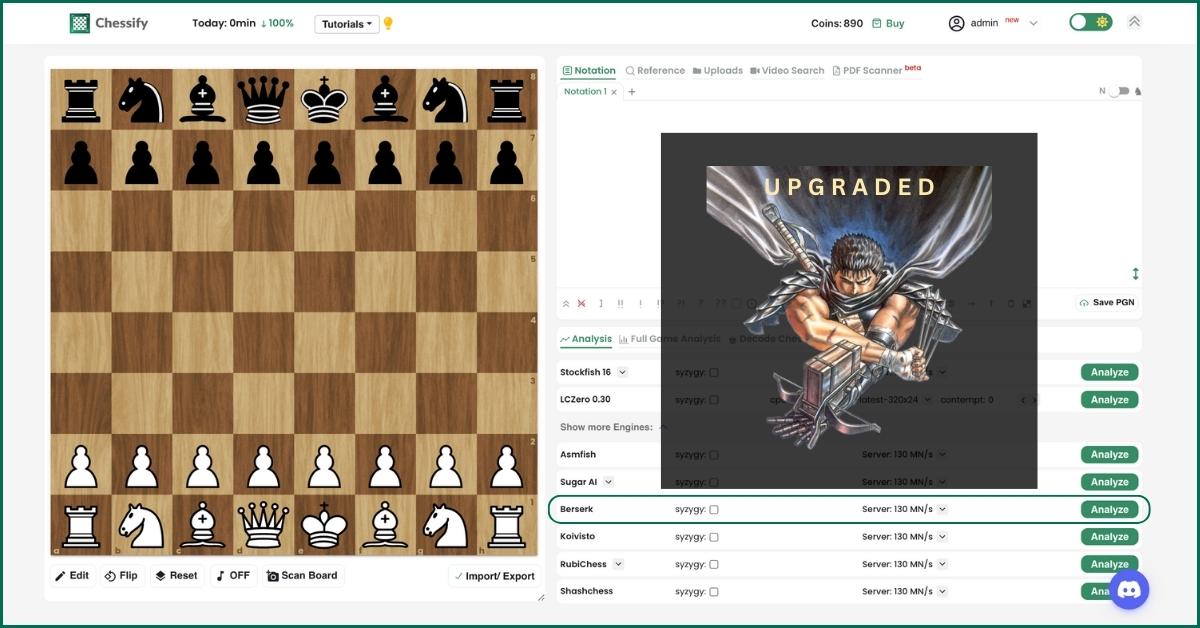 How to use Berserk on Chessify
You can use Berserk on Chessify without prior installation. As soon as you register on our website, you will have access to Berserk and six other chess engines at 1MN/s speed for Free.
To analyze with Berserk on higher-speed servers, you can get one of our subscription plans or coins. The subscription plans will also give access to all the website features. See full options below:
Amateur Plan - $7.99/month or $79.99/year: unlimited access to 10 MN/s (10,000k kN/s) speed
Master Plan - $34.99/month or $349.99/year: unlimited access to 25-100 MN/s shared-speed server
Coins - starting from $5: access to 130 MN/s dedicated speed server at 10 coins/minute rate
If you're just getting started with Chessify, please check our video tutorials for help. We highly recommend joining our Discord community as well for assistance and discussions regarding a wide range of chess topics.