RubiChess - the New Chess Engine on Chessify
Another UCI-compliant chess engine, RubiChess, is now available on Chessify and can be used at up to 130 MN/s speed!
We've added RubiChess at the request of our recent survey participants and Discord community members. To share your suggestions and feature requests with us, please join our Discord channel.
About RubiChess
In development since 2016, RubiChess is currently ranked number 9 in the CCRL 40/15 Rating List and participates in most big chess engine tournaments.
Starting with version 1.9 released in November 2020, RubiChess has supported evaluation using NNUE weight files. With the latest 2.0 version, however, NNUE evaluation became the default. Chessify offers both versions of RubiChess on its Analysis Dashboard. Although we recommend you use the NNUE version, you may still use the standard version without NNUE for the so-called handcrafted evaluation.
RubiChess is an open-source engine developed by Andreas Matthies. You may find the detailed feature list of each development version in the engine's ChangeLog on GitHub.
How to use RubiChess on Chessify
Unlike 3rd-party GUI chess programs, like ChessBase or Arena, Chessify doesn't require any installation. Once you register on our Analysis Dashboard, you will have free access to RubiChess and other chess engines at 1MN/s speed. With our subscription plans and coins, you can get access to even higher-speed servers for RubiChess:
Amateur Plan

- unlimited access to 10 MN/s (10,000k kN/s) speed

Master Plan

- unlimited access to 25-100 MN/s shared-speed server
Coins - access to 130 MN/s dedicated speed server at 10 coins/minute rate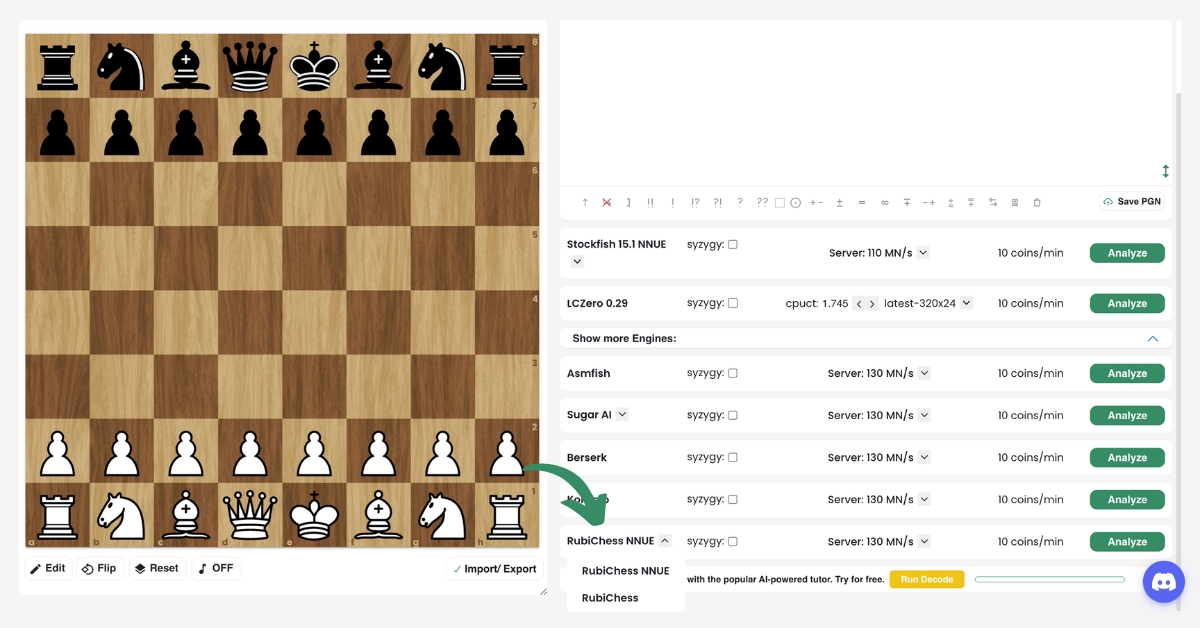 Learn how to analyze with different chess engines on the Chessify website with our video tutorial. For the full list of tutorials, please see our previous news post.
We hope you enjoy using RubiChess on Chessify. As a chess training platform, Chessify aims to provide you with the best and newest chess features and engines. We've previously added Koivisto and Berserk to our engine list, which includes the latest dev versions of the top chess engines in the world: Stockfish, Leela Chess Zero (Lc0), etc.
Sign up or log in to our website to use the best engines on our cloud servers. All registered users can analyze at 1000 kN/s speed for free. For higher-speed servers and other website features, you may consider one of our subscription plans.