From Obscurity to Champion: The Inspiring Story of Mariam Mkrtchyan
Urgency is a powerful driving force. It motivated Armenia's 19-year-old Mariam Mkrtchyan to raise her chess rating by nearly 300 points in just two years, a remarkable progression from 2075 to 2343.
As she approached the age where she had to decide between pursuing chess or attending university, Mariam and her parents agreed that if she did not achieve significant success soon, she would need to quit and focus on a different profession. However, Mariam's love for chess was too great, and the prospect of giving up the sport was not appealing to her. She decided to put all her focus on chess.
In the same year, Mariam won the Armenian women's championship and qualified for the national team. "I achieved my main goal for the year and made it into the national team. But with the Chess Olympiad just a couple of months away, I was anxious to perform well for the team, so I had no time to rest and needed to continue training hard," Mariam recalled in an interview with Chessify. As the saying goes, you reap what you sow. Winning the Armenian championship was just the start of her fantastic year in 2022.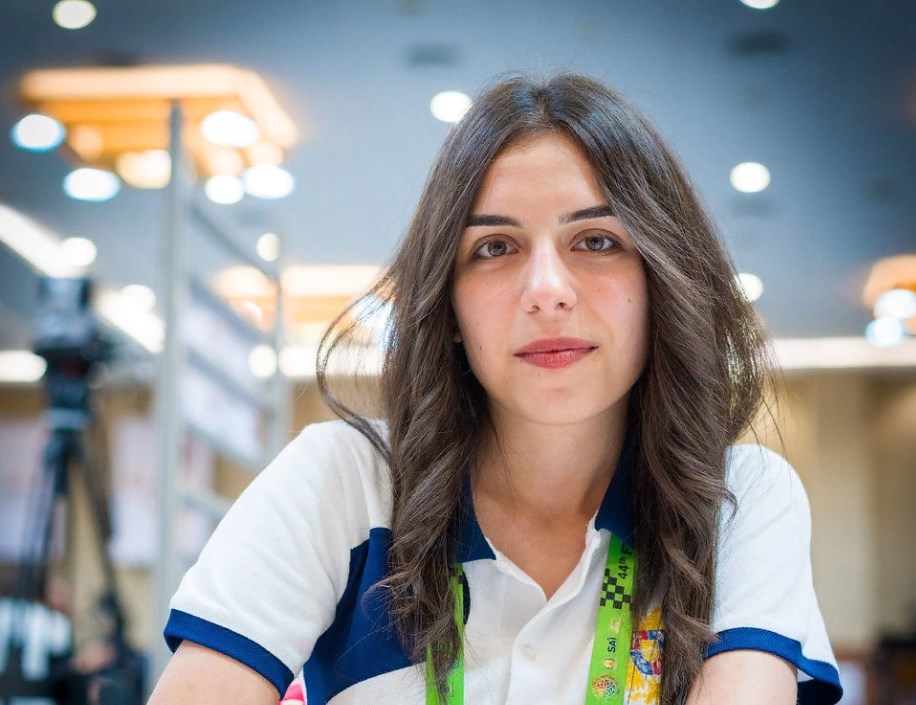 Image source: Wikipedia
Making the Most of her Last Chance at Youth Championships
2022 marked Mariam's final year of eligibility in the Youth championships. And what a finale it was! She first traveled to Mamaia, Romania for the World Youth Championship of girls under 18 and dominated the field with a perfect score of 11 out of 11 to become the first-ever under-18 girls' champion for her country. When asked how she managed to perform so consistently until the very end, she replied, "I didn't go there to play 11 games. I was playing one game a day and doing it to the best of my ability."
Her next stop was Antalya, Turkey, where she participated in the same category of the European Youth Championship. She won with another impressive score of 8.5/9, cementing her status as a top player in her age group and earning her well-deserved recognition in the world of chess.
In just three months, she won the two most significant titles for young chess players: she was the European and World Chess Champion of girls under 18. This remarkable achievement was a testament to Mariam's hard work, dedication, and passion for the game.
Training Routine and Chessify
"Be obsessed or be average." - Grant Cardone
It's safe to say that Mariam is one of the most dedicated female players in the world, devoting almost all of her time to chess. "Chess is what I do. I train all day, and I don't keep track of the hours," she explained. The young WIM particularly enjoys solving puzzles and working on her openings, with Chessify being particularly helpful in this regard.
Mariam began using Chessify when she joined the Armenian national team in February 2022, as she wanted to perform at her best for the team. She uses Chessify's cloud engines to analyze her openings and games, giving her an edge over her opponents. She had used other cloud engines before but was recommended to switch to Chessify for a more reliable and powerful service.
"Chessify is just better than everything else. It provides the best analysis results and helps me prepare better," - she explained.
Just How Much She Loves Chess
In modern times, there are too many distractions that can tempt young people away from their studies and chess. Despite her youth, Mariam is very aware of this. "I put everything aside to train in chess because I want to be successful. I train full-time," Mariam says.
Mariam's full-time training is no exaggeration. Sometimes she contacts Chessify's tech support at 4 AM her time to get help. "Before important tournaments, I give my all to chess and exclude everything else from my life to avoid distractions," she says.
Mariam was introduced to chess when it became part of the mandatory school curriculum in Armenia. What appealed to her most about the game was the feeling of winning and surpassing her opponent. This feeling continues to motivate her to this day.
Like everyone else, Mariam also experiences moments of feeling down and demotivation. However, she perseveres through these moments. Her two main hobbies are music and books, particularly psychological and inspirational books. "When I lack motivation and feel like doing nothing, these books remind me that there's no time to relax, and I have to keep going," she explains. "I also enjoy listening to music; I have songs for almost every mood, and it always helps me to keep going."
What's Next for Mariam
In just a few days, Mariam will participate in the European Individual Women's Championship. She is well-prepared for the tournament and aims to surprise the competition.
Despite her dedication to chess, Mariam has not abandoned her plans for university. She has merely delayed them for a few years to reach the right level in chess.
We wish Mariam continued success and many more achievements in her chess career.
Read More Interview Blogs with Chessify Users
Interview With GM Anish Giri, The Winner Of Tata Steel Masters Tournament - Read more
Interview with Abhimanyu Mishra, the Youngest Chess GM in History - Read more
Interview with Hayk Martirosyan, the Armenian Chess Champion - Read more
Raunak Sadhwani: India's Next Chess Superstar - Read more