Raunak Sadhwani: India's Next Chess Superstar
As the tenth world chess champion Boris Spassky famously said, "The place of chess in the society is closely related to the attitude of young people towards our game."
It looks like chess has never been as popular among young people as it is today. There are twelve 2600+ junior chess players in the world (under 20 years old), six of whom are among the top 100 players, as of February 2020. Given the steady decline in the median age of chess players, this number will still increase in the coming years.
In recognition of the talent of the chess youth, we've decided to make a blog series about five of the top 50 junior players, who use Chessify cloud engines in their everyday training to conquer the chess field.
Today we're starting with the youngest of them, 14-year-old Raunak Sadhwani from India (No31 junior in the world), who became a centerpiece last October when he completed his last GM norm in the 2019 Isle of Man International Open after defeating two and drawing seven 2650+ grandmasters in 11 rounds.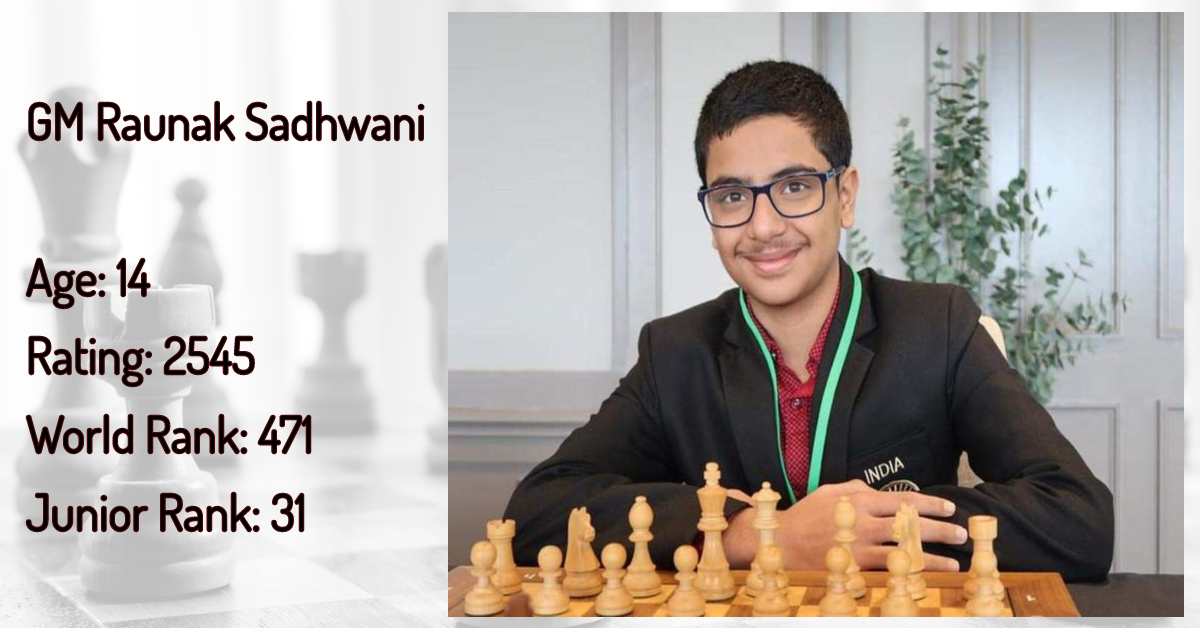 For the last year, starting from January 2019, Raunak made a big leap from a 2451-rated International Master to a Grandmaster with a rating of 2545. Due to his recent 15-Elo-point gain in the 2020 Aeroflot Open, held at the end of February, Raunak is now the seventh highest-rated under-16 player in the world.
It was only a month ago when the Indian Prodigy made his name resound in the chess world. On February 17, during the popular PRO Chess League online team event, Raunak beat World No11 Shakhriyar Mamedyarov (2764) in a 10+2 rapid game and greatly contributed to his team's success in the match. After playing eight games for the 2018-Pro-Chess-League-champion Armenian Eagles team, he scored 5.5 points to reach an incredible performance rating of 2798. You can watch the Sadhwani-Mamedyarov game on Agadmato's YouTube channel.
Don't you want to learn more about India's young chess star?
Raunak completed his first GM norm in the 2019 Aeroflot Open and the second in the 2019 Porticcio Open. For his final GM norm, he started the IoM Grand Swiss open by upsetting Russia's Sanan Sjugirov (2662) and then drew with Sergey Karjakin (Russia, 2760), Surya Shekhar Ganguly (2658), Ivan Saric (Croatia, 2667), Pavel Eljanov (Ukraine, 2663), Peter Leko (Hungary, 2670) and Gabriel Sargissian (Armenia, 2690) in succession to secure the norm at 13 years, nine months and 28 days, regardless his results in the remaining rounds. This made him India's 65th and his home city Nagpur's first-ever GM.
Here's Raunak's beautiful victory against GM Sjugirov.
Sadhwani's talent has been acknowledged by many. In a 2018 interview, legendary Vishwanathan Anand named Sadhwani among India's incredibly talented youngsters. A couple of weeks later, when the Indian former world champ defeated then-12-year-old Raunak in the tiresome first-round game of 2018 Isle of Man International, he added, "I was very, very lucky to win. When I saw the pairing, I knew it could be tough because Sadhwani was ridiculously underrated. And of course, over the board, he played much stronger than his rating. So I feel relieved to have won." (as cited in Sportstar article).
Alongside prodigies Nihal Sarin, R. Praggnanandhaa, and D. Gukesh, Raunak was also among the chosen Indian teenagers for the 2019 Indian training camp, the Kramnik Microsense India Chess Program, during which they were mentored by Vladimir Kramnik himself.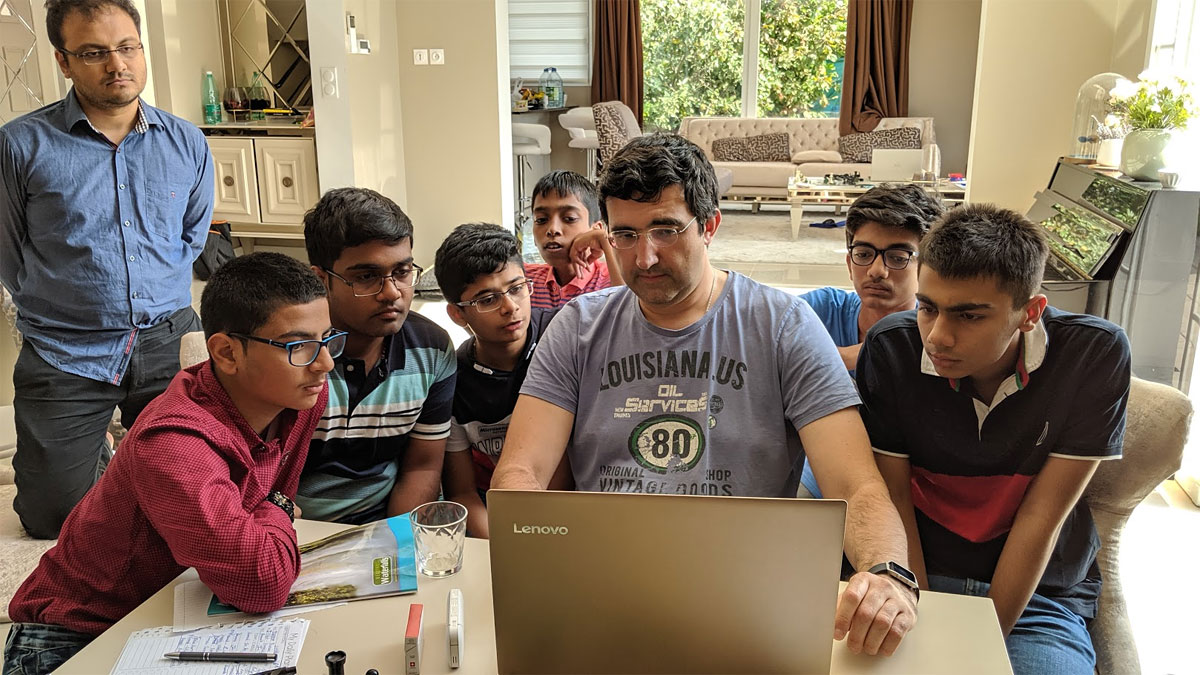 Photo by Amruta Mokal / ChessBase India
The Isle of Man international followed the camp almost immediately. And after the successful tournament, Raunak thanked the former world champ for his contribution.
"A big thanks to World champion GM Vladimir Kramnik sir. His teaching is simply superb which changed my game totally and made me psychologically strong as well," he said in an interview (as cited in The Times of India article).
Raunak's growth has been even more impressive in the rapid and blitz categories. During the 2019 year, he jumped from 2377 to 2454 rapid and from 2357 to a stunning 2537 blitz rating.
In the 2019 World Rapid&Blitz Championships, Sadhwani enormously improved both his blitz (+63.8) and rapid (+95.8) ratings. Starting the rapid event as the 180th seed, he scored 7.5/15 points to gain almost 100 Elo rating points. Along his way, he beat GMs like Alexander Donchenko (2567), Aleksandar Indjic (2572), Artyom Timofeev (2648), Alonso Rosell (2628), and drew with Krishnan Sasikiran (2601), Ivan Popov (2607), Nikita Vitiugov (2631), Georg Meier (2710), and Alexey Sarana (2618).
Here's a nice opening trick by Raunak against Germany's Alexander Donchenko in the 3rd round of the tournament.
Undoubtedly, Raunak has a bright future. And with the effort he puts in his training, he is certainly going to impress us greatly in the coming years.
You may also be interested in
7 Exclusive Grandmaster Tips on How to Find Chess Opening Novelties
Interview With GM Anish Giri, The Winner Of Tata Steel Masters Tournament
Interview with Abhimanyu Mishra, the Youngest Chess GM in History
Raunak Sadhwani: India's Next Chess Superstar