Why You Should Use Chessify: All Features and Benefits
Are you a chess enthusiast eager to enhance your skills? Whether you're a beginner, an intermediate player, or a pro, Chessify will provide you with the essential tools to accompany your chess journey. Our website encompasses a range of features: from opening references to the most powerful cloud servers for chess analysis. In this blog, we will explore the diverse features and advantages of Chessify and how they can contribute to enriching your chess experience. Feel free to navigate to the section you're interested in the most by clicking on it:
Pricing and Subscription Plans
How to Get Started with Chessify
Features of Chessify Website
Initially, the Chessify website began as a cloud analysis platform for professional chess players. However, we have progressively incorporated additional chess features, transforming the website into a more complete training platform suitable for chess players of all levels. Our team consistently introduces new features, so be sure to follow our news page and join our Discord community to stay informed about the latest updates.
Now, let's delve into our primary features. Feel free to click on the feature name to navigate directly to its respective section:
Cloud chess engines
Cloud chess engines, a relatively recent term in the field, have quickly become one of the most effective tools for game and tournament preparation. Essentially, this term refers to the utilization of powerful cloud servers to run the strongest chess engines available in the market (e.g. Stockfish) to enhance their speed and efficiency. Since the performance of chess engines largely depends on the power of the device they run on, cloud servers have emerged as an indispensable tool for chess analysis. In contrast to local computers and servers, which have limited capacities and can be costly, cloud servers enable us to provide substantial CPU core support for chess engines at an affordable price. Consequently, engines like Stockfish, LCZero, or Koivisto can be used online at significantly higher speeds without consuming the resources of the user's device. To learn more about this topic, we recommend reading our comprehensive guide on what cloud engines are, why they are worth it, and what options you have.
Chessify boasts the most powerful cloud servers in the chess market. We offer a wide variety of chess engines with speeds up to 1 BN/s, equivalent to 1,000,000 kN/s, where kN/s indicates the engine's speed calculated by the number of nodes (positions) it analyzes per second. For comparison, alternative cloud engine platforms like ChessBase Public Cloud provide up to 350,000 kN/s for Stockfish, which is nearly three times slower than our fastest server. Please note that we also offer higher speeds on demand, such as 2BN/s, which you can learn more about in this informative YouTube video by correspondence chess player Carl Bicknell.
Here is the complete list of our engines and servers. The server speed is presented in MN/s and BN/s to denote larger numbers, with 1 BN/s equal to 1000 MN/s, 1,000,000 kN/s, and 1,000,000,000 NPS. Please note that the server speed is calculated by running classical Stockfish until depth 26 on the initial chess position.
Classical Stockfish, Stockfish NNUE, CorChess: 1 MN/s, 10 MN/s, up to 100 MN/s shared, 110 MN/s, 300 MN/s, 700 MN/s, 1000 MN/s (1 BN/s)

Leela Chess Zero up to 100 kN/s depending on the network

SugaR, asmFish, Berserk, Koivisto, RubiChess 1 MN/s, 10 MN/s, up to 100 MN/s shared, 130 MN/s
All registered users receive unlimited access to the 1 MN/s (1000 kN/s) speed server for all engines except for LCZero. Simply create an account on chessify.me/analysis to get started. To learn how to access the higher-speed servers, please scroll down to the pricing section.
Full Game Analysis
The latest addition to our array of features, full-game analysis enables Chessify users to analyze their entire game using Stockfish with a single click. Users can select a depth (5, 10, 20) at which they want each move to be analyzed and receive detailed assessments of their mistakes and inaccuracies along with suggestions for superior alternative moves.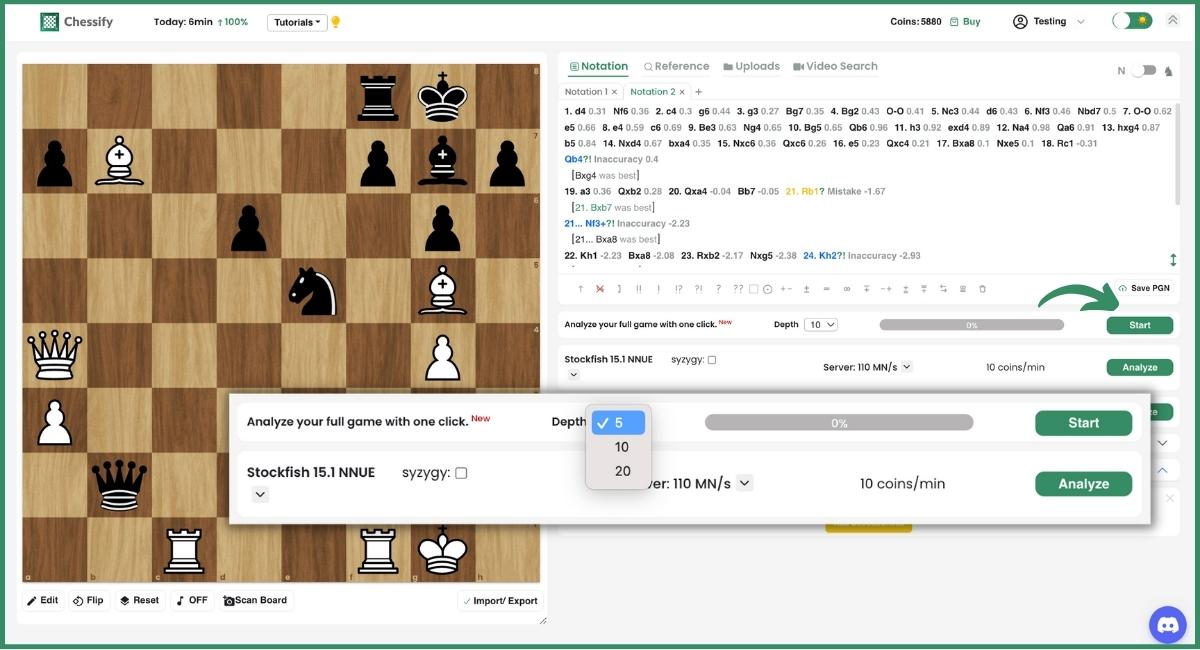 While the engine depth is customizable, the NPS speed and, accordingly, the analysis accuracy depend on the user's subscription plan:
Free users: 1 MN/s speed

Amateur plan: 10 MN/s speed

Master and GM plan: up to 100 MN/s speed
To access this feature for free, simply log in to your Chessify account or create a new one.
Mega Game Database
We have compiled professional chess games from 1475 to the most recent tournaments of 2023 to create the largest online chess database with over 9 million games. The database is updated weekly with PGNs of new tournaments available on theweekinchess.com website, ensuring you always have access to the latest games.
With a free account, you can search, view, and analyze any game from the database. Subscribers also gain access to the statistical section of the database - opening references.
Opening References
The mega game database serves as a priceless resource for understanding and emulating high-level chess play, as it also offers statistics on various opening positions, including:
Moves played

Number of games each move appeared in

Date a specific move was last played

Percentage and number of games where white won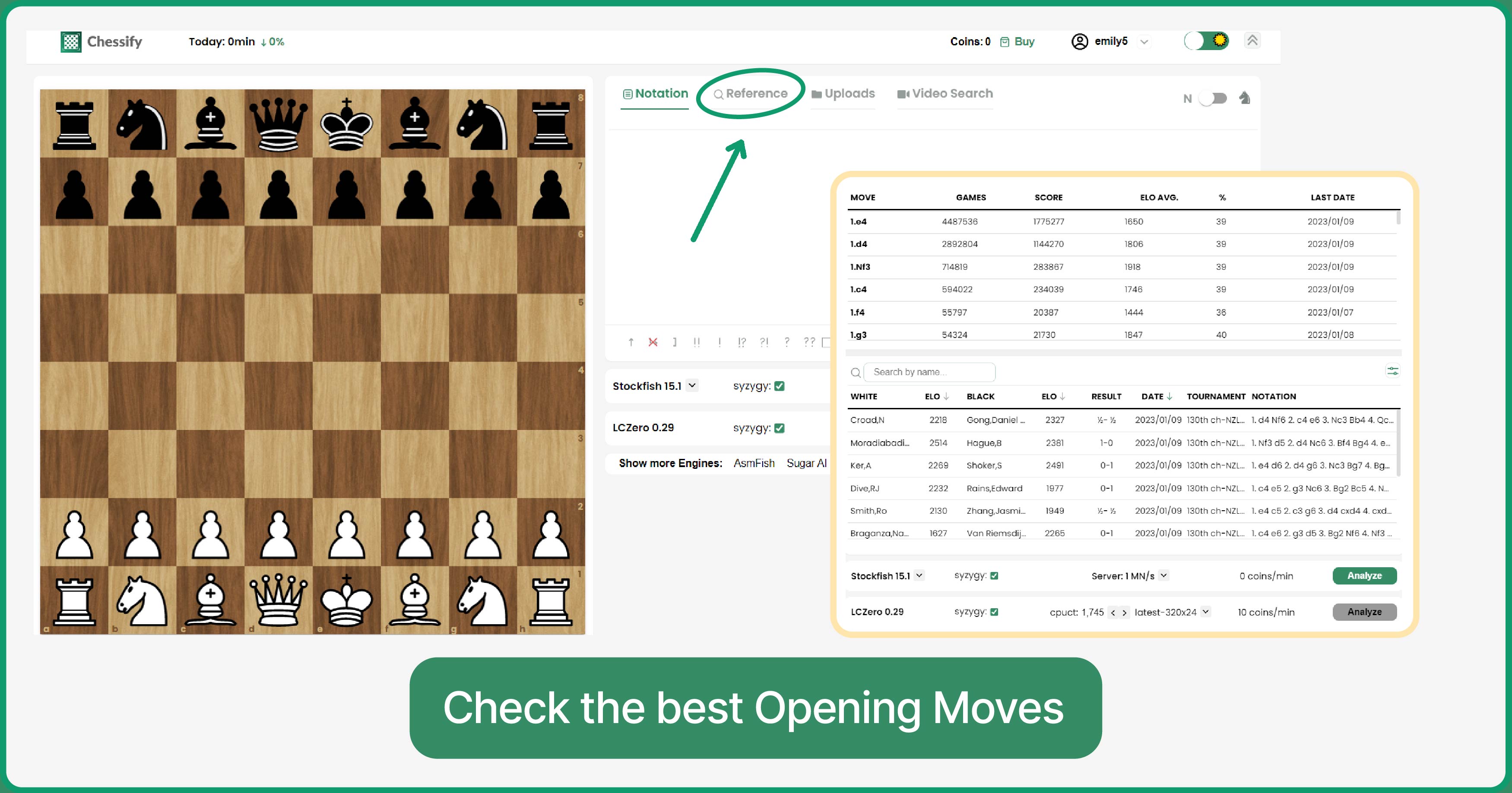 The reference section assists in developing your opening repertoire and exploring diverse opening lines. You can even search for a specific player or multiple players, such as your opponent, and view the statistics pertaining to their games. To access these statistics, you will need a subscription plan, such as the Amateur plan for $7.99/month.
Cloud Storage
This feature ensures that your games and valuable chess analysis files are always within reach. You can create folders (akin to databases) and add as many PGN files as needed. By simply signing in to your account on chessify.me, your saved games in cloud storage will be accessible from anywhere.
With the Amateur plan, you can save up to 50 PGN files with a maximum file size of 5 MB. Subscribers of the Master (including Master combo plans) or GM plans enjoy unlimited cloud storage for their games. Even if you cancel your subscription, your files will remain in storage.
Internal Search by Position
After creating folders and saving multiple PGN files, having a convenient way to locate the files you need is essential. The Internal Search feature addresses this necessity. Developed at the request of Chessify ambassador Anish Giri, this functionality enables you to swiftly search through your PGN files by position, allowing you to find the precise training materials you need without scrolling through folders and files.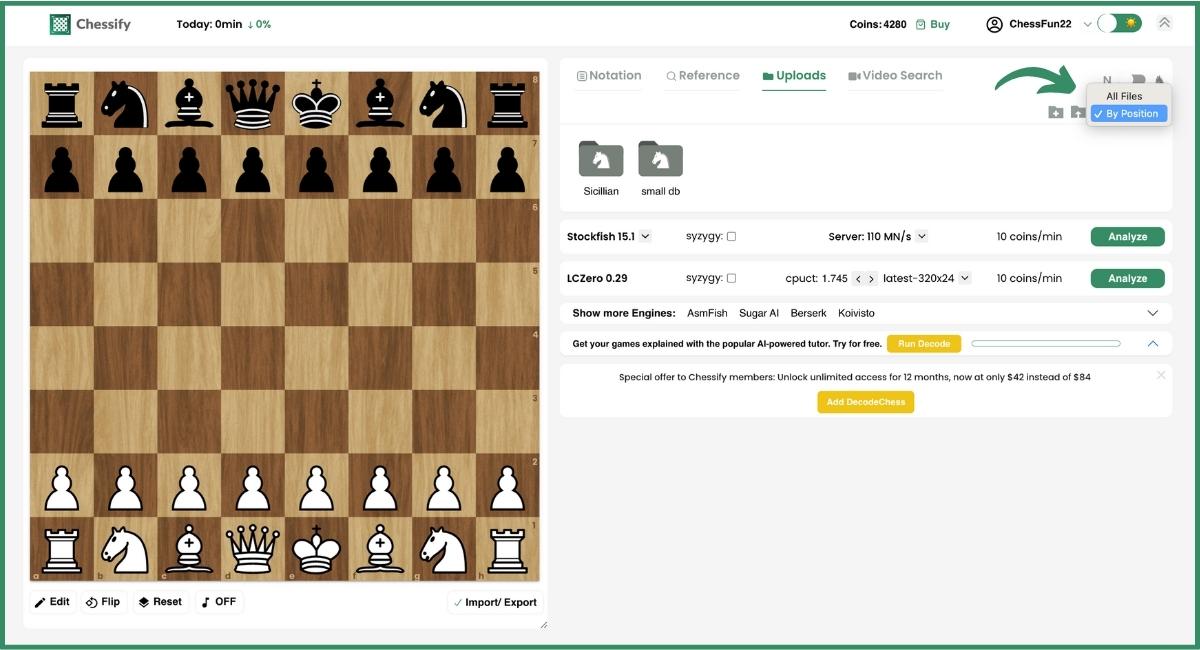 Advanced Chess Notation
Our advanced chess notation features aim to simplify the process of annotating and analyzing your games. You can add as many variations and subvariations as needed, make notes and comments on specific moves, and assign different values to moves or positions. For beginners or those who find it challenging to read standard chess notation in letters (K, Q, R, B, N), we also offer the option to switch your notation to figurine style.
Chessboard Scanner
The feature that helped our mobile apps achieve over 500,000 downloads is now available on our website. The chessboard scanner enables you to effortlessly import chess positions to our Analysis Dashboard using copy-paste. Simply copy a chess diagram image from any website and paste it into Chessify's scanner dialog to import it in just a few seconds.
Video Search
Another feature that originates from our mobile apps, the video search is built upon our chessboard scanning tool. Since YouTube has become the go-to platform for online learners, we have scanned chess positions in numerous videos and can display the results you need based on the chess position you search for through our website. There's no need to recall opening or player names to find videos; our video search tool will locate the content you need in mere seconds and play the video from the exact moment your position appears in the video.
Multiple Tabs
The multiple tabs functionality is one of the latest features of our Analysis Dashboard, designed to enhance your training process. This feature allows you to open new files or games in the same window without overwriting your previous game. Whether you need to open multiple files from your saved PGNs or several games from the Reference section, the games will open in new tabs within a single window.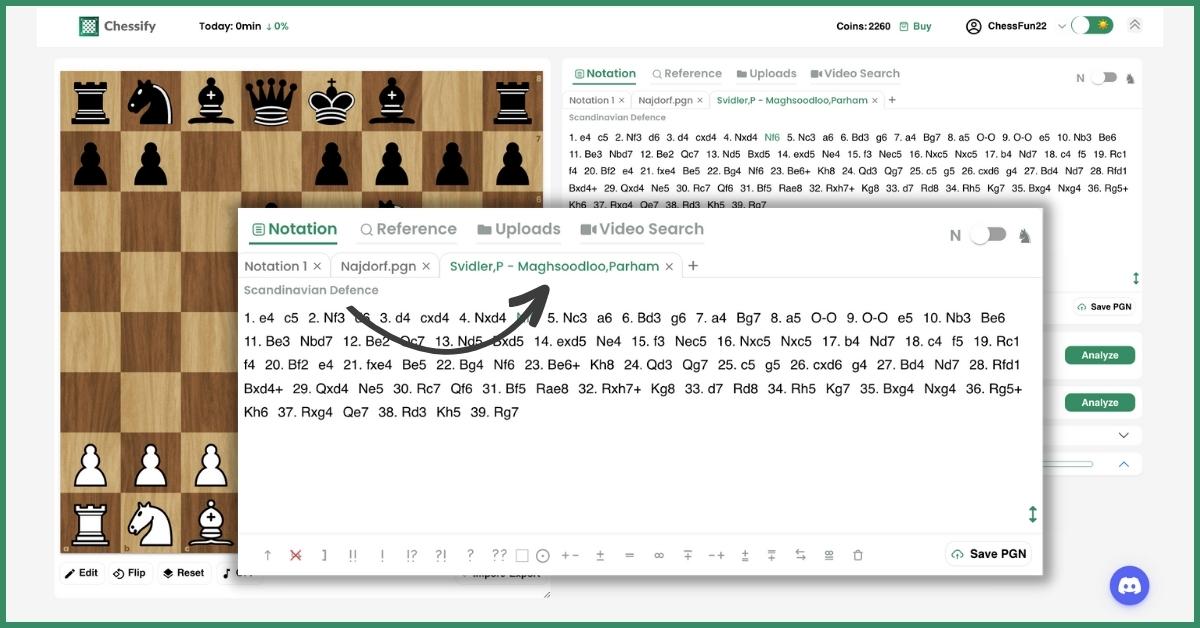 DecodeChess Integration
DecodeChess is a very helpful feature for beginner or amateur chess players who may struggle to understand why chess engines suggest specific moves and variations. Our partnership with DecodeChess enables us to offer Chessify users an AI-powered tool that explains Stockfish's suggested moves in human language. DecodeChess explanations cover threats, attacking plans, piece functionality, tactical and strategic motifs, and more. Until June 30, 2023, all registered Chessify users can access one free Decode per day. Learn more about the DecodeChess add-on and how to utilize the feature in this news post.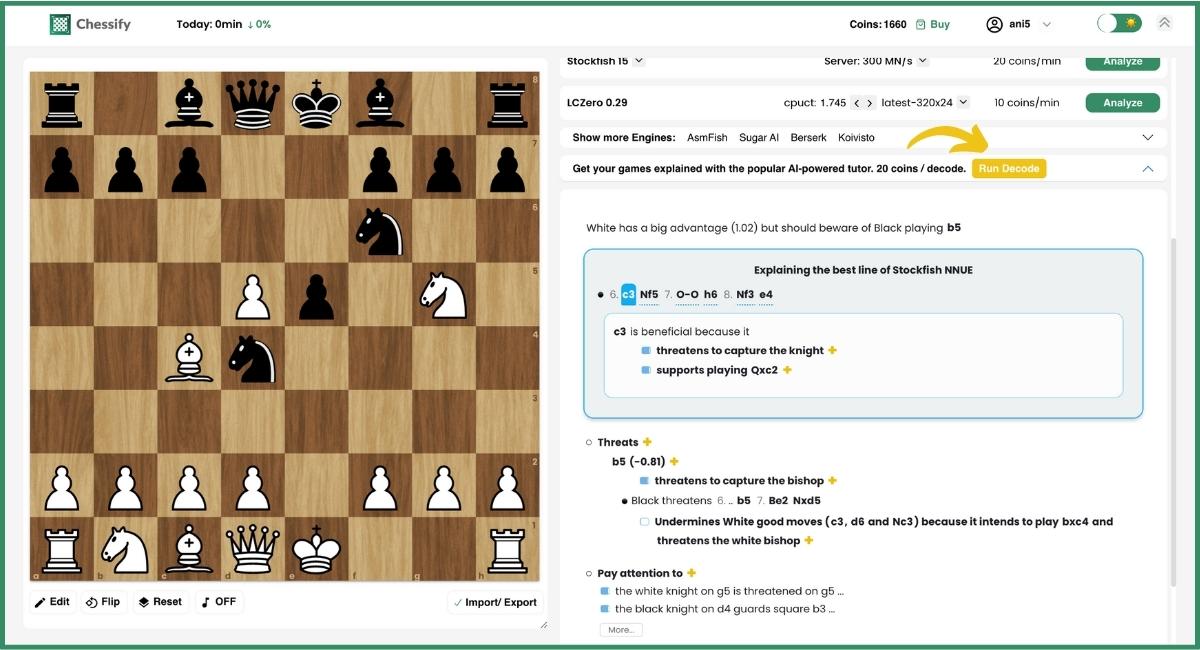 PDF Reader & Scanner
This is the first chess-specific e-book reader in the market. It allows you to turn simple PDF files into interactive e-books, where you can scan and analyze the diagrams within the book. All you need to do is to upload your PDF file into our Analysis Dashboard.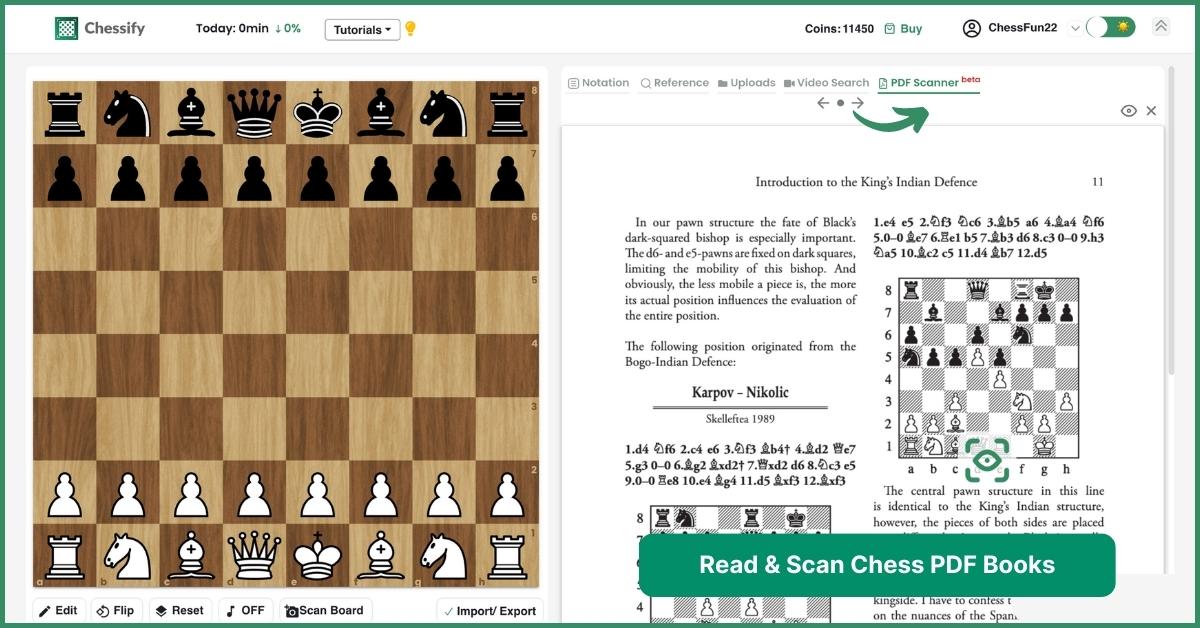 This feature is still in the Beta phase and is available to all users for free. For instructions on how to use it, please read this blog post. The PDF reader/scanner has been one of the most favorite features of our mobile app users, and we're sure it will streamline the learning process of our website users as well by facilitating their study of chess books.
Benefits of Chessify
Now that you've read about the features we provide, it's time to explore the unique benefits that come with using the Chessify website. While some of our features may be found on other chess platforms, several key factors distinguish us from our competitors. These advantages include:
Unlimited Cloud Analysis
All Chessify users receive unlimited analysis for Stockfish, asmFish, SugaR, Koivisto, Berserk, and RubiChess engines. The speed of the unlimited analysis server depends on the user's subscription level. In particular,
1 MN/s (1000 kN/s) - Free users and users with coin packages

10 MN/s (10,000 kN/s) - Amateur plan and Amateur combo plan with coins

Up to 100 MN/s (100,000 kN/s) - Master and GM plans plus Master combo plans with coins
For those who opt for a special combo plan with the GM plan, unlimited access to up to 100 MN/s servers is also available. GM combo plan options with coins can be discussed via email: support@chessify.me.
The Fastest Cloud Servers
Chessify delivers up to 1 BN/s (1,000,000 kN/s) speed servers for Stockfish, the highest speed available in the chess market. In comparison, the highest-speed servers provided by ChessBase Public Cloud are around 300 MN/s, which is three times slower. For the Stockfish engine, Chessify offers four dedicated speed servers: 110 MN/s, 300 MN/s, 700 MN/s, and 1 BN/s (1000 MN/s). See the full list of engines and servers below.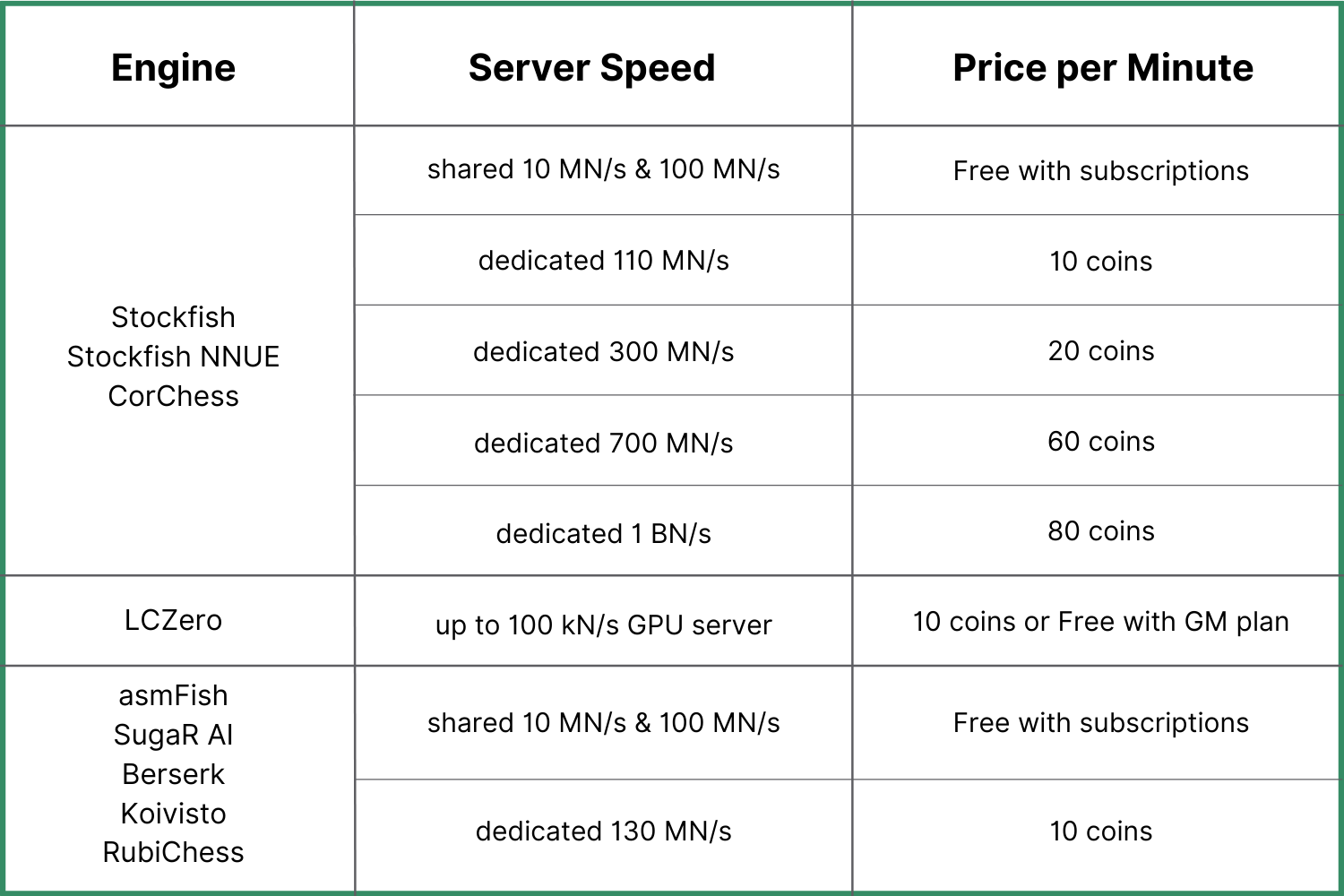 Security
Chessify rents servers from top cloud providers such as Oracle and Azure. Furthermore, we employ SSL-certified connections to ensure that data transferred between systems remain secure and unreadable.
Accessibility
A significant drawback of GUI chess programs is their limitation to a single device, with many restricted to a single operating system like Windows. Chessify, however, is compatible with multiple platforms and accessible at all times.
Our plugin can be downloaded and installed on GUI chess programs for Windows, granting access to all of our cloud servers and engines. Alternatively, if you don't have a chess GUI program or prefer not to overload your computer, you can use our cloud analysis by logging into your account at chessify.me/analysis. In addition to cloud analysis, our website offers numerous other essential chess features to support your full training on the web without the need for any chess programs.
Automatic Updates
One of the key advantages of using Chessify is that you don't need to worry about updating your engines, databases, or hardware. We handle everything for you. Our game database is updated weekly with PGNs from theweekinchess.com website, and our engines are upgraded to their latest development version every month.
Tech Support
Our customer support team is available 24/7 to assist you with any issues, ranging from account creation to server problems. Please contact support@chessify.me if you require any assistance.
For quick help from our team and fellow Chessify users, join our Discord channel. We discuss questions about chess engines and analysis, share puzzles, and make announcements about our latest features on the channel. Be sure to join as well.
Who Uses Chessify
In addition to over 18,000 registered users, Chessify is used by more than 300 professional chess players. While we ensure 100% security and confidentiality for our users' personal data and interests, some have shared interviews and testimonials with us. Chessify ambassadors Fabiano Caruana, Anish Giri, and Levon Aronian, World and European Champion of girls under 18 Mariam Mkrtchyan, the youngest ever grandmaster Abhimanyu Mishra, and top junior GMs Hayk Martirosyan and Raunak Sadhwani are among the Chessify users who have relied on our service to prepare for their chess games and tournaments.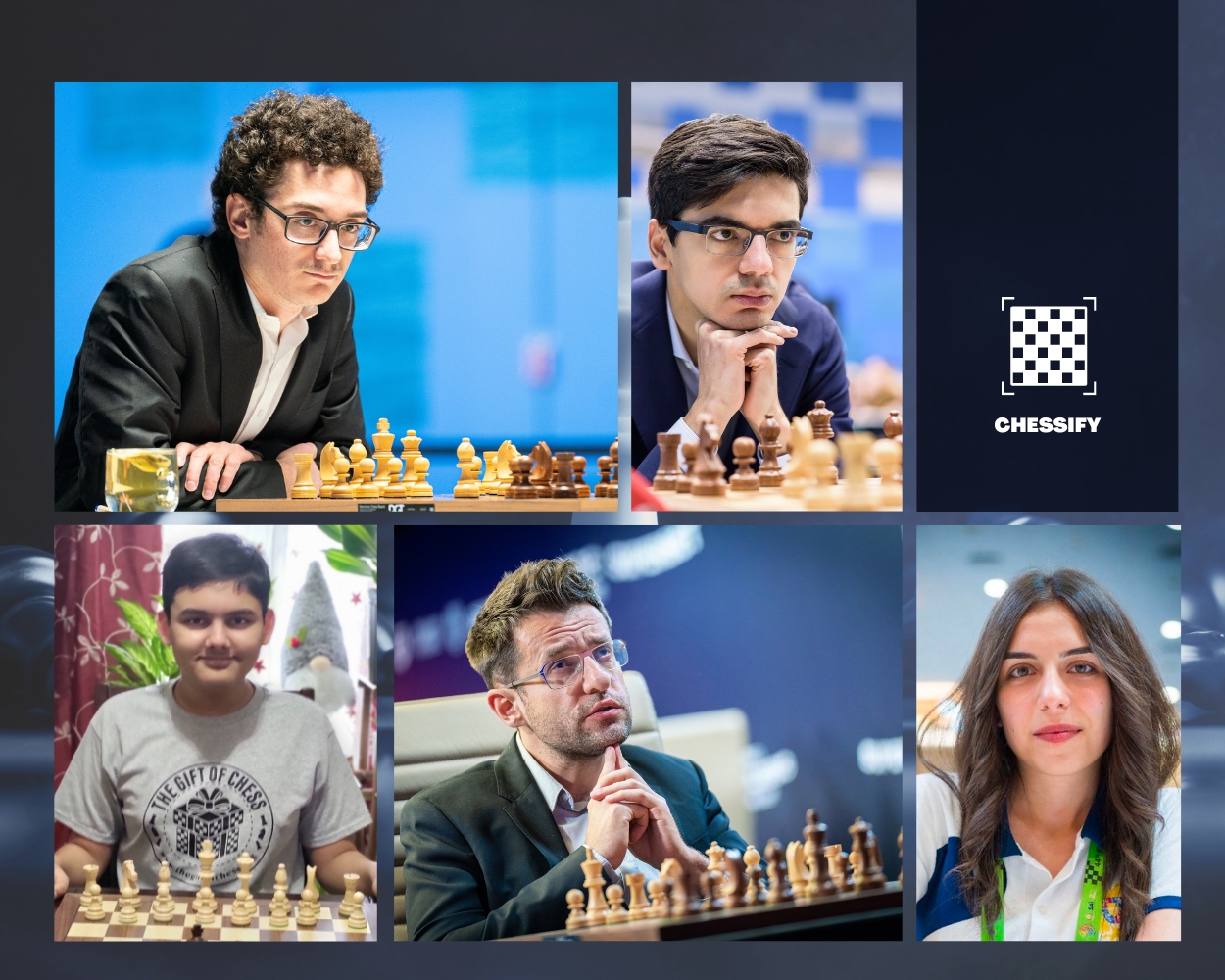 Pricing and Subscription Plans
Chessify employs a freemium pricing model, offering basic features for free while premium features and higher CPU power can be acquired through subscription plans and coins. Subscription plans grant access to unlimited cloud analysis on shared-speed servers and access to website features, while coins enable you to rent dedicated-speed servers, such as the 1 BN/s server. For users interested in both services, we have designed combo plans, which combine standard subscription plans with coins. For a comprehensive overview of our pricing, please visit this blog.
How to Get Started with Chessify
Chessify can be used directly on the website or integrated with third-party GUI chess programs like ChessBase and Hiarcs.
See the instructions on how to install the Chessify plugin on ChessBase
Learn how to use the cloud servers on the Chessify website
Watch our tutorials about the main website features
In summary, Chessify provides a wide array of tools and resources for chess players at various skill levels. With innovative features, powerful cloud servers, and a supportive community, Chessify is an excellent platform for improving your chess skills and staying ahead of the competition. If you're interested in exploring the benefits of Chessify, consider registering to enrich your chess experience.